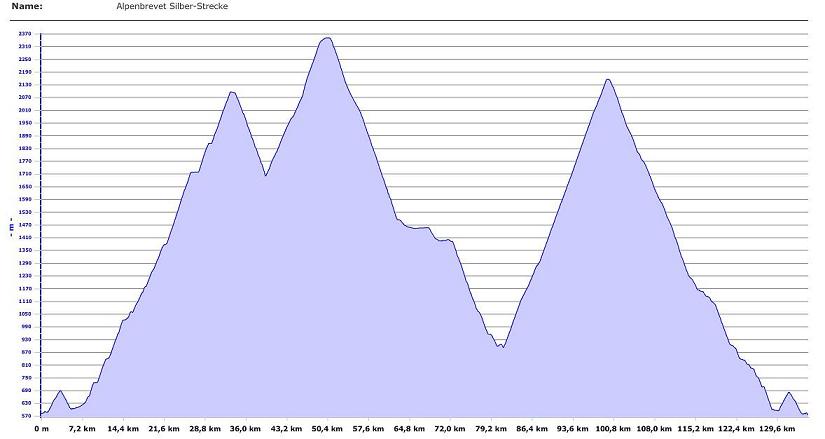 The Silver-course ascends at first 1,600m of altitude difference up to Grimselpass at an altitude of some 2,400m. Afterwards there is the downhill ride to Andermatt (the plain passage at approx. 70km), from there through a funnel with much motor traffic down to the village of Wassen und subsequently 1,300m of altitude difference up to Sustenpass. At the end of the day in Meiringen you have challenged some 130km und an altitude difference of almost 4,000m. This key data of "small" Silver-route is almost similar to the data of Dolomites cycle marathon.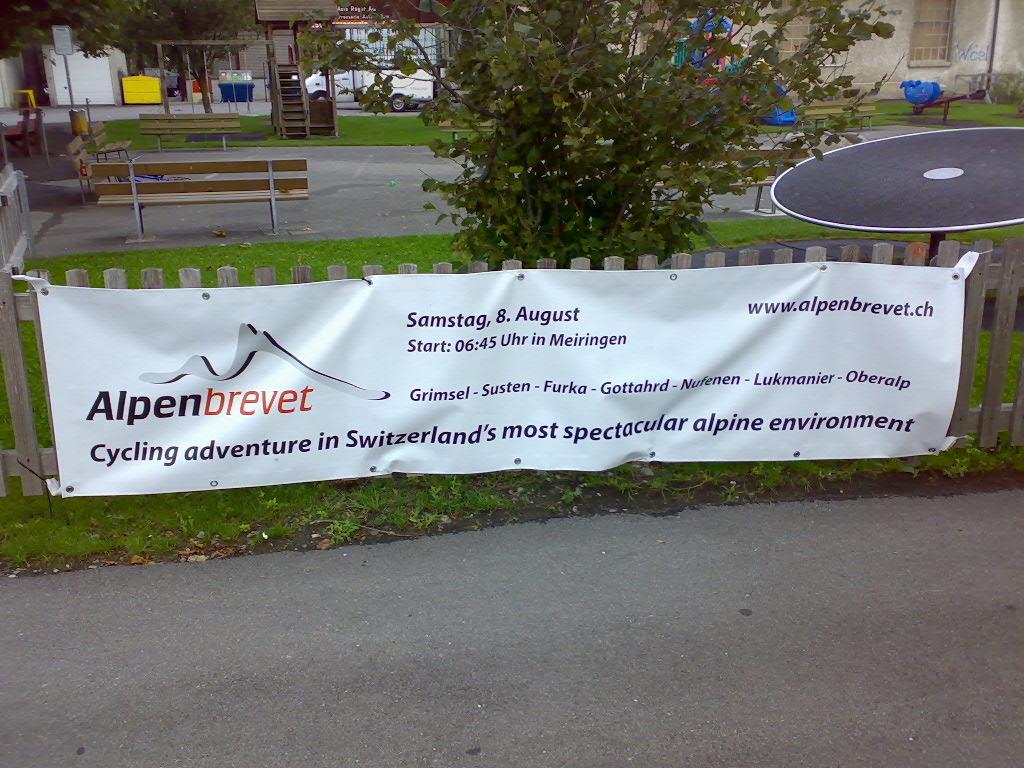 Cute welcome in the village of Meiringen between railway station and children's playground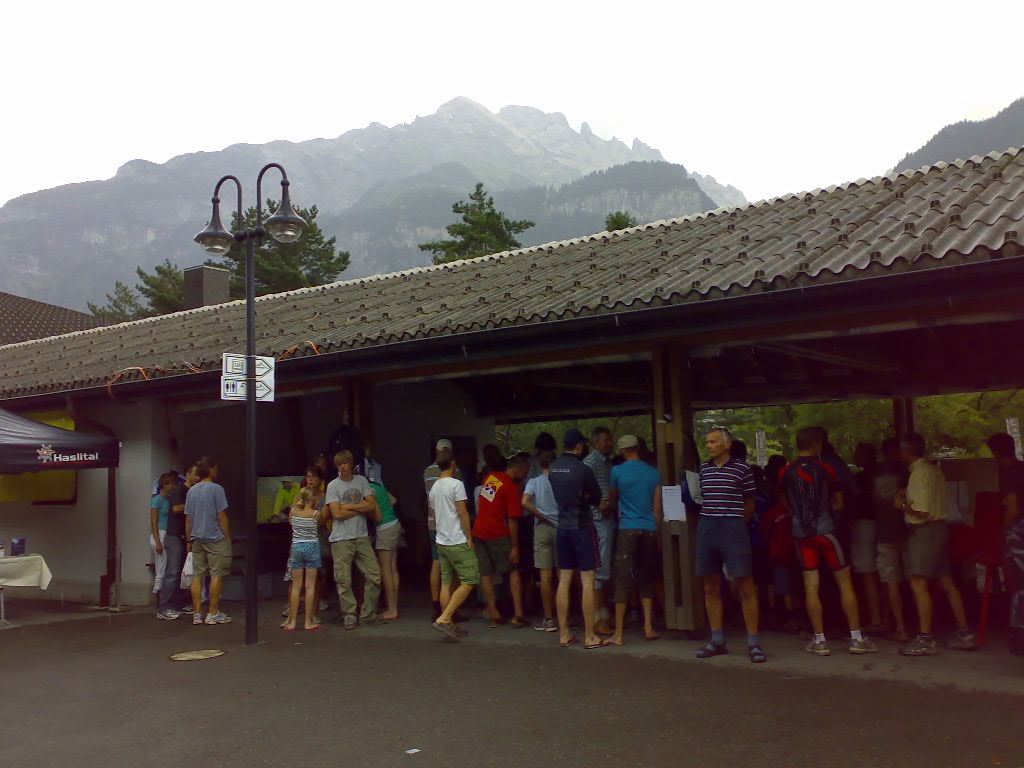 Well-arranged race package pick-up is more comfortable than at other similar events. Race package is provided in a plastic bag and some participants may even have got excited about the free Perwoll washing agent sample...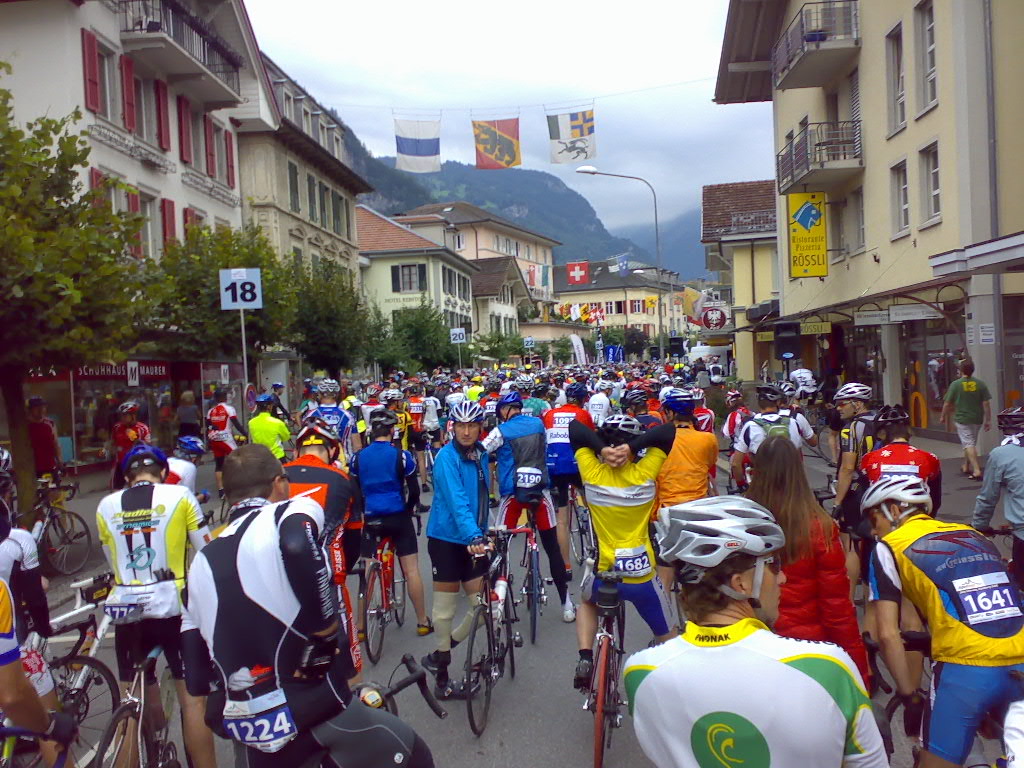 Mass start in the early morning at 6.45am on the main street of Meiringen leading into uncertain weather conditions...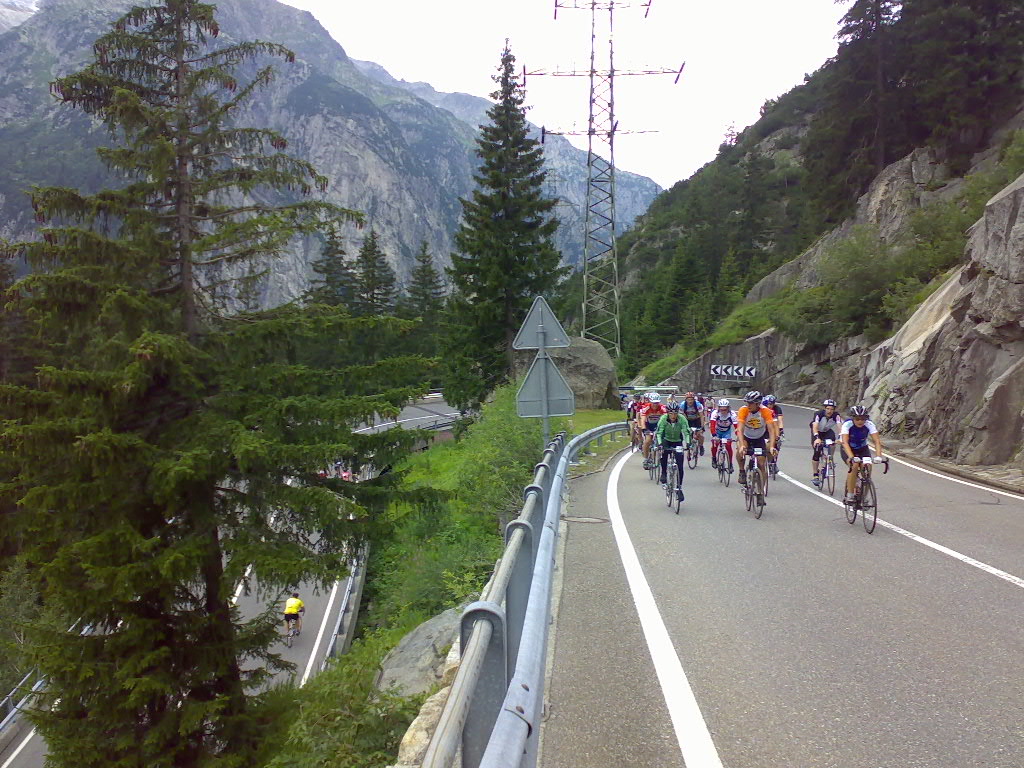 On ascent to Grimselpass the field of participants gets already dispersed. While the ambitous riders are pushing forward it becomes high time for a first photo break at the end of the field.
This litle rocky passage (diverting a closed tunnel) grants some interesting variety before the route becomes high alpine.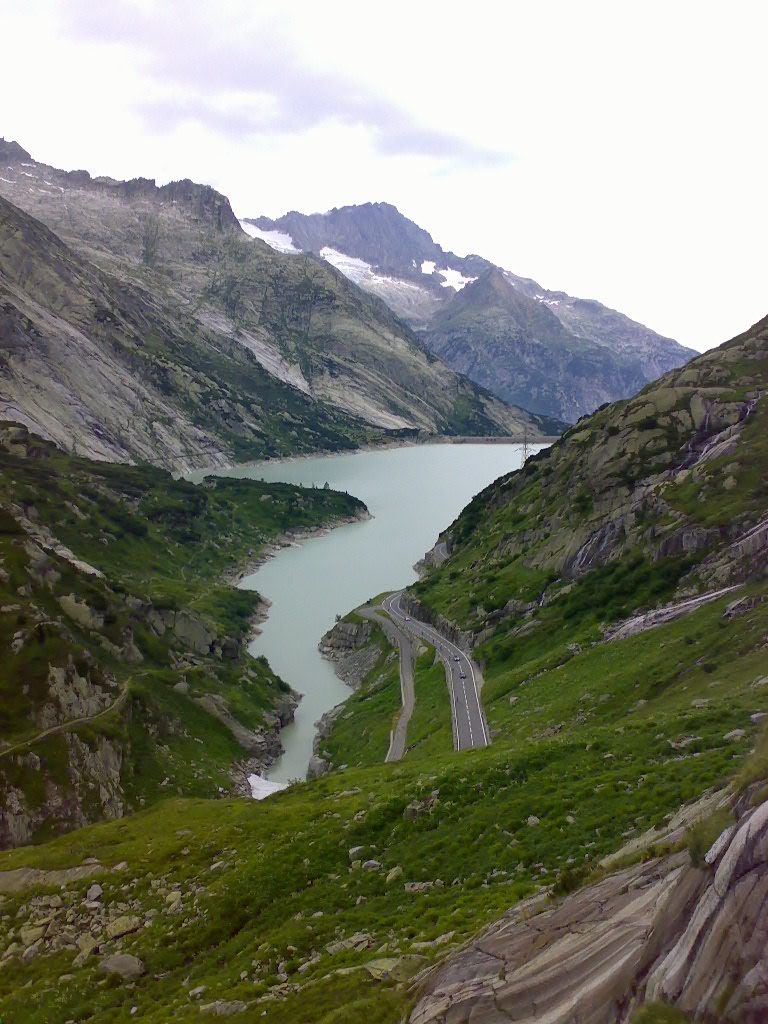 Beginning at an altitude of some 1,900m the road up to Räterichsbodensee...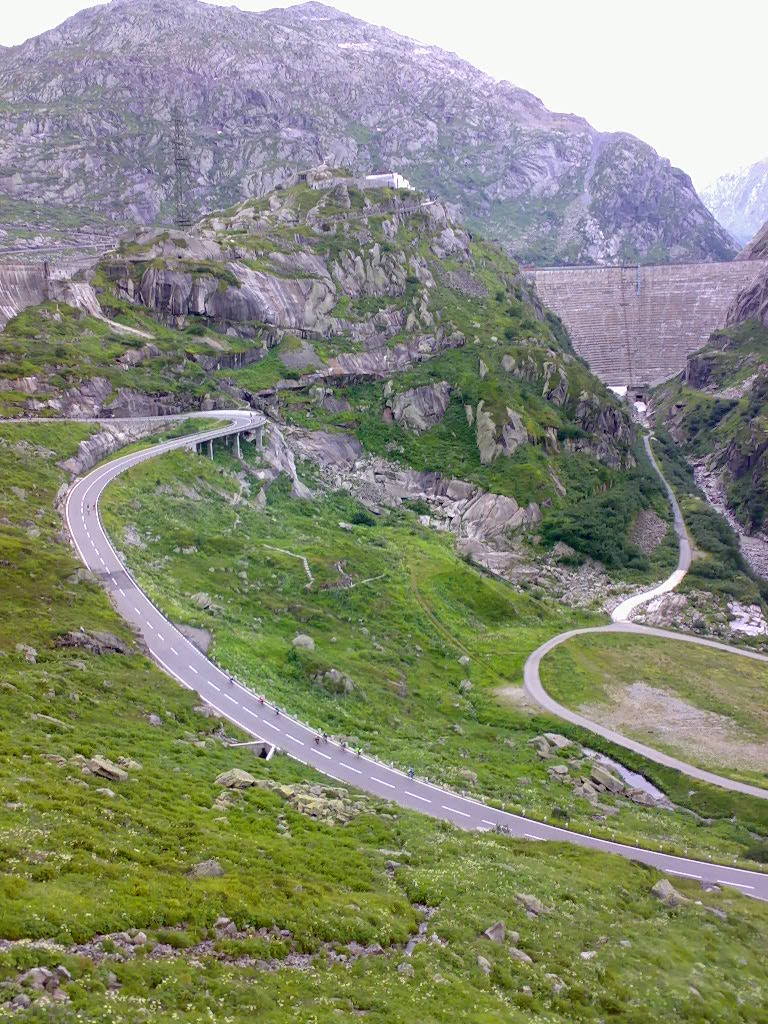 ...and impressive concrete dams at Grimselsee and the hospice. Summit seems to be near but a few meters are still missing.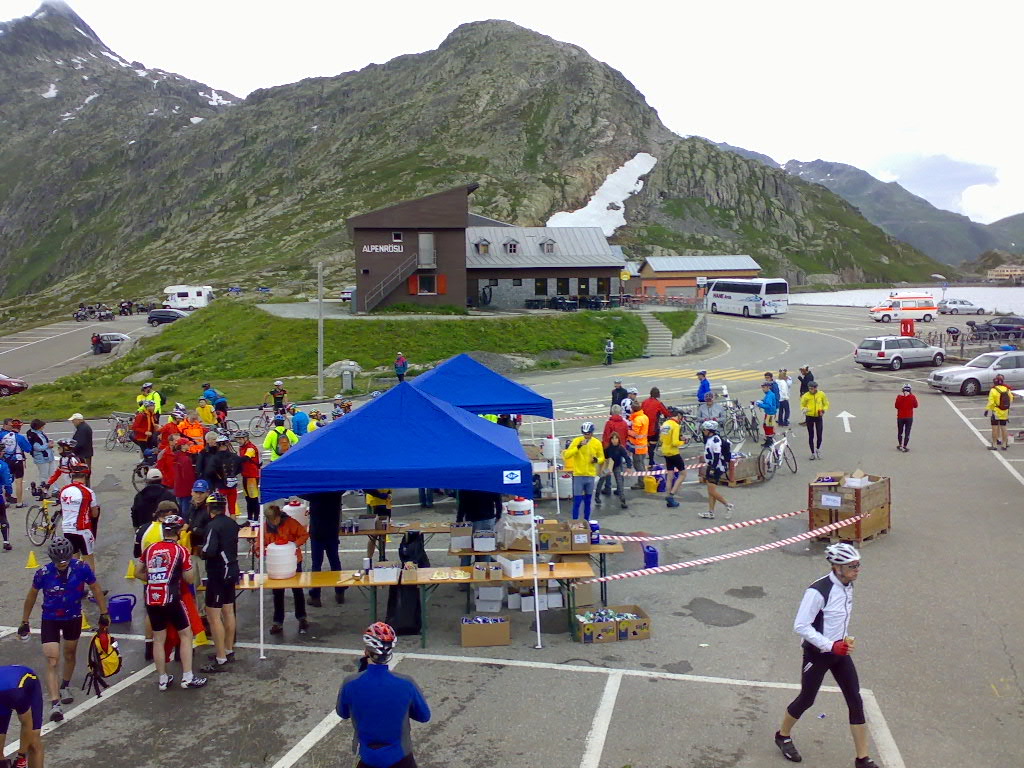 On Grimselpass summit the first opportunity to refill water bottles and carbohydrates: Plenty of liquids and refreshments such as energybars and fruits. If usually at the end of a field at such events you highly appreciate that much of good food and drinks.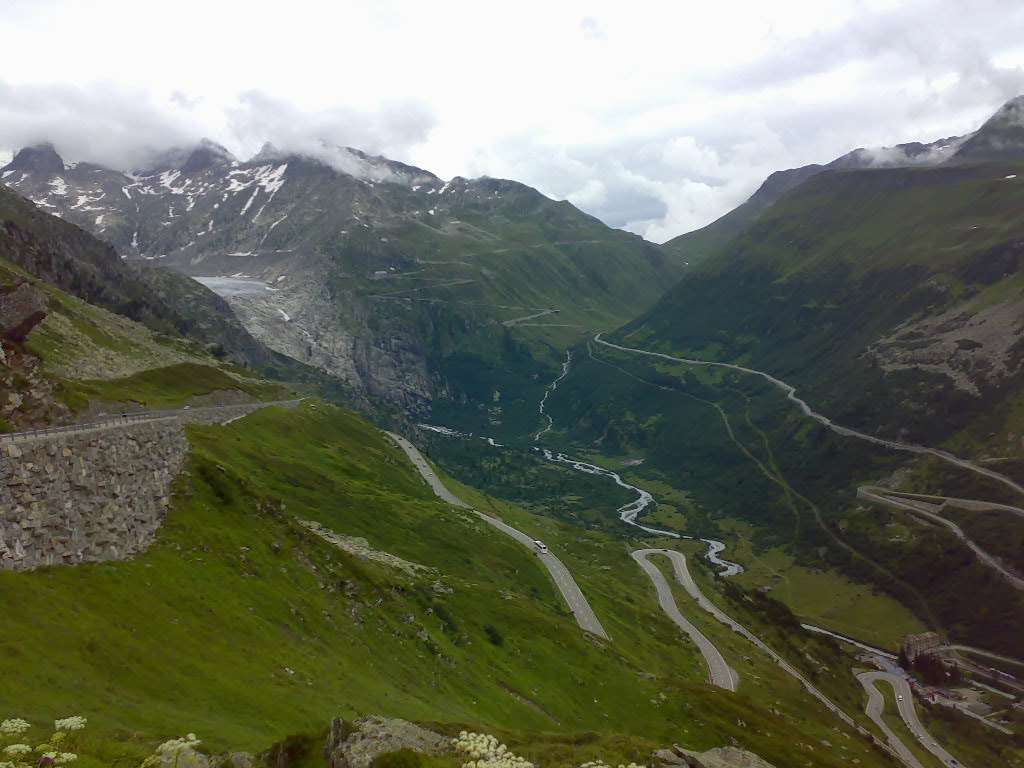 Shortly behind Grimselpass summit you can experience this amazing view to southern ramp of Furkapass: Left of picture center one can find Hotel Belvedere and Rhone Glacier which tongue expanded only 150 years ago down to the village of Gletsch. In that village you have to decide whether to proceed in direction to Nufenenpass (Gold-route) or preferably towards Furkapass (Silver-route). Fine weather bikers (such as me) turn to the left to Furka!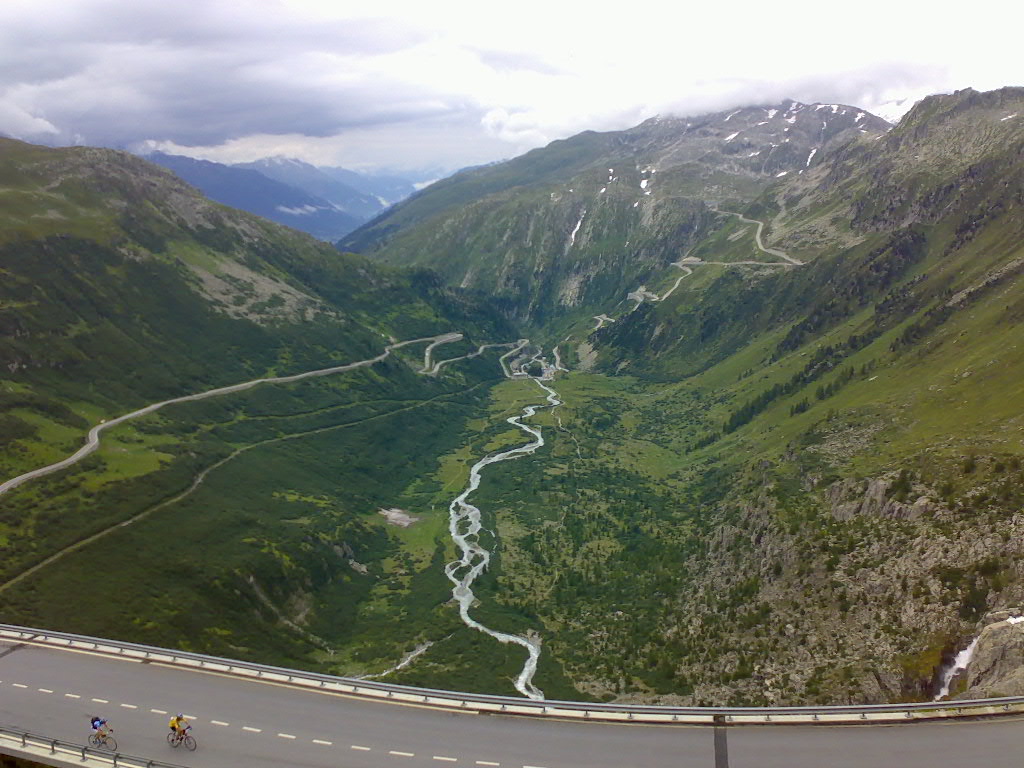 Opposite view from Furka ramp back to the descent from Grimselpass.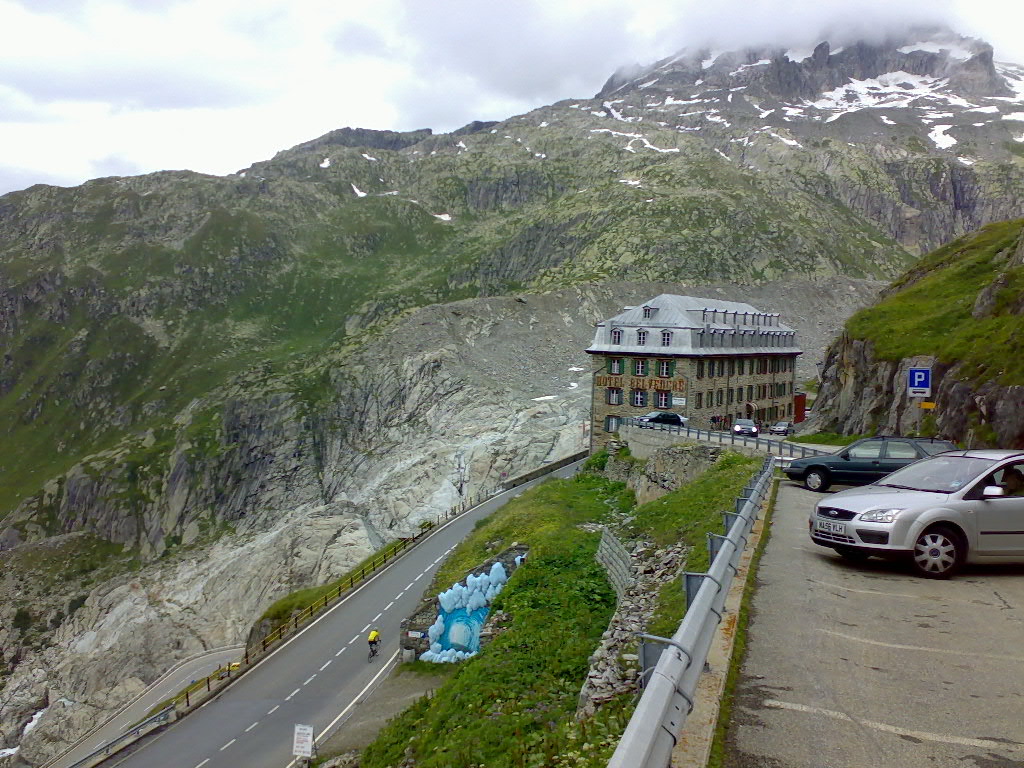 At Hotel Belvedere you can take a short walk into the Glacier or proceed to the summit of Furkapass at an altitude of more than 2,400m.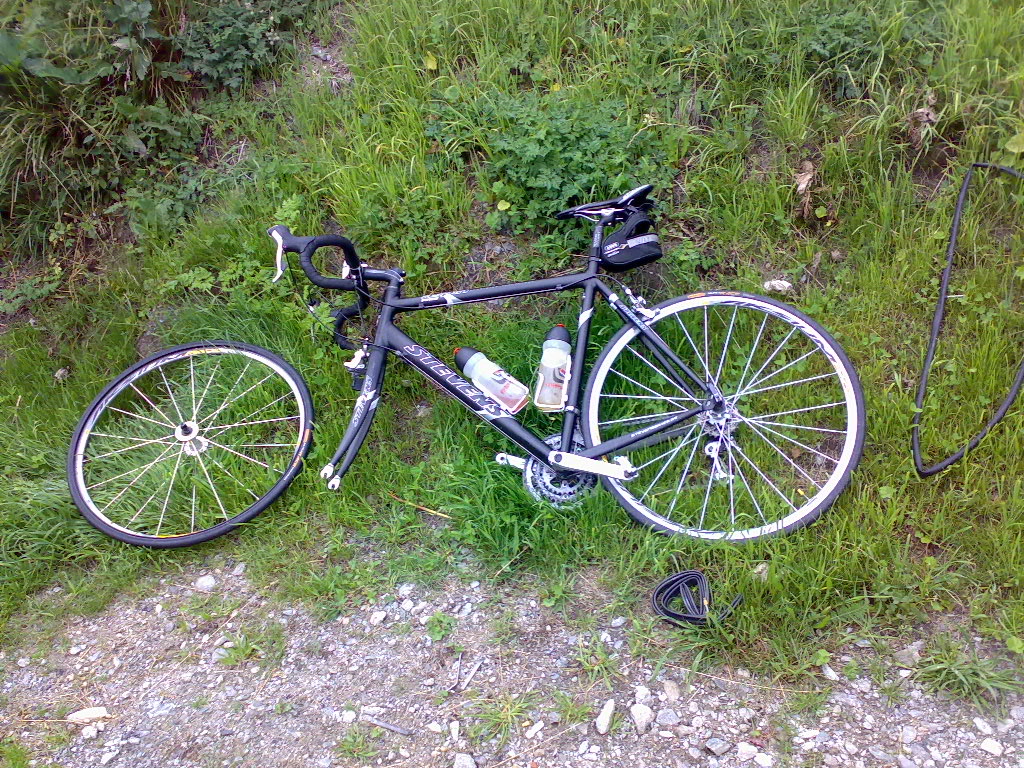 On the downhill ride from Furka a flat tyre forces into an involuntary short break...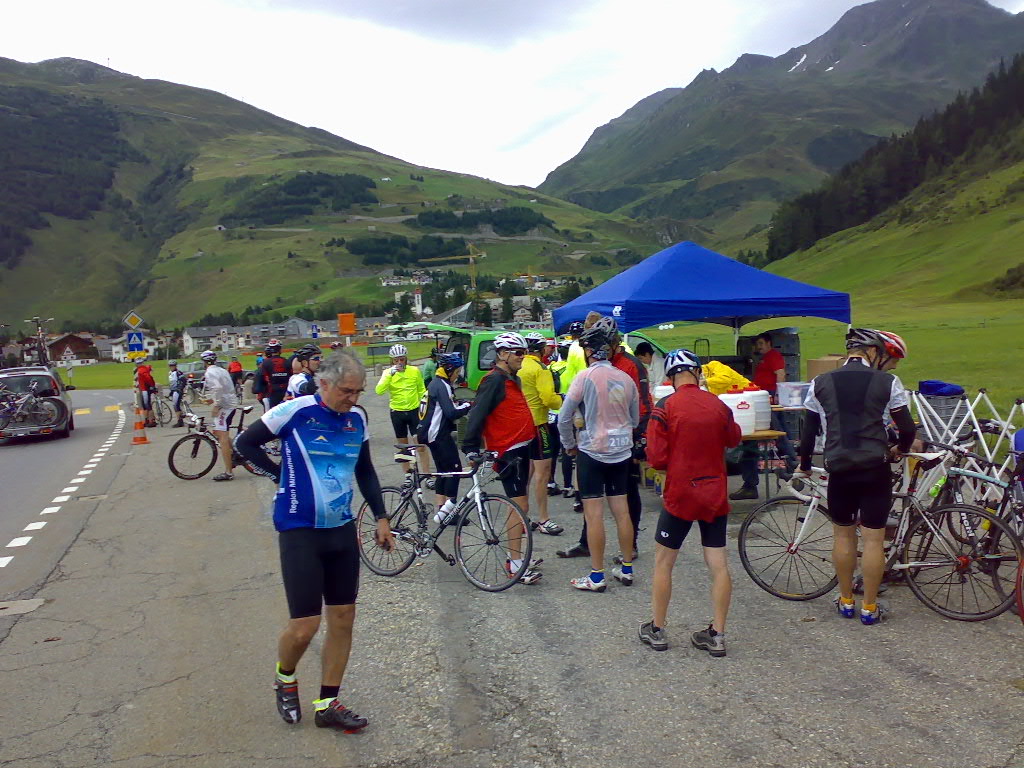 At the next stop in Andermatt hot soup is most welcome after the freezy downhill from Furka. After having lunch the course leads down to the village of Wassen to climb Sustenpass.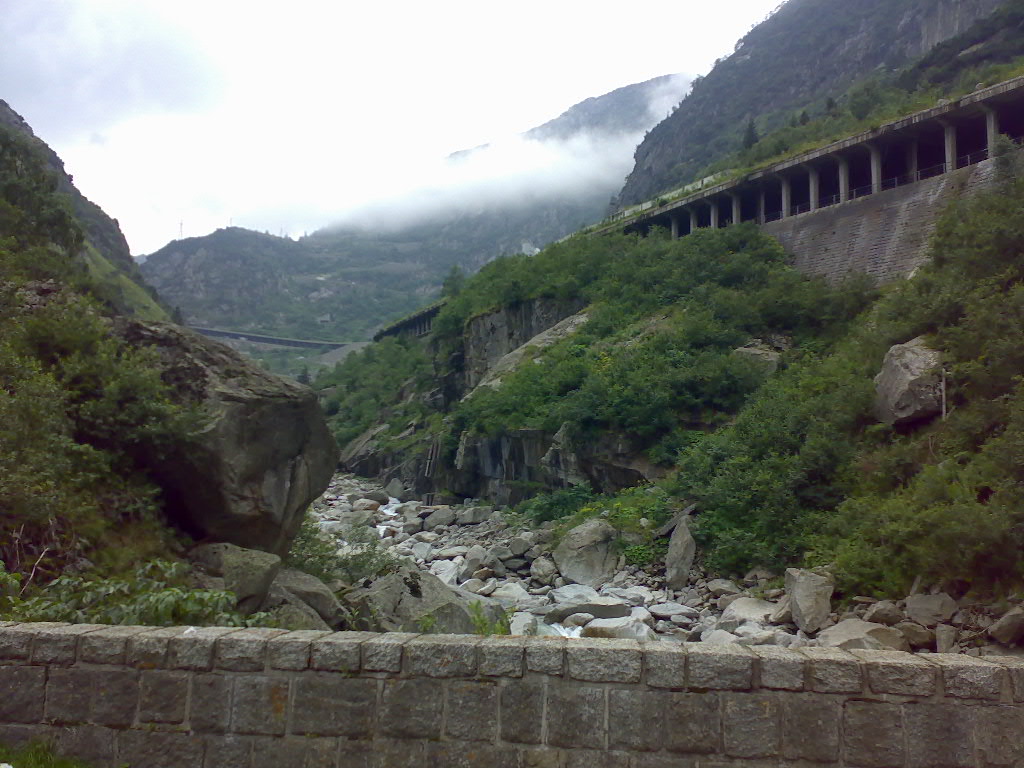 Unfortunately, all the motor traffic from Oberalppass, Gotthardpass and Furkapass is channelised here in Andermatt - definitely the most unconvienient part when riding the Alpenbrevet. In addition it now starts raining...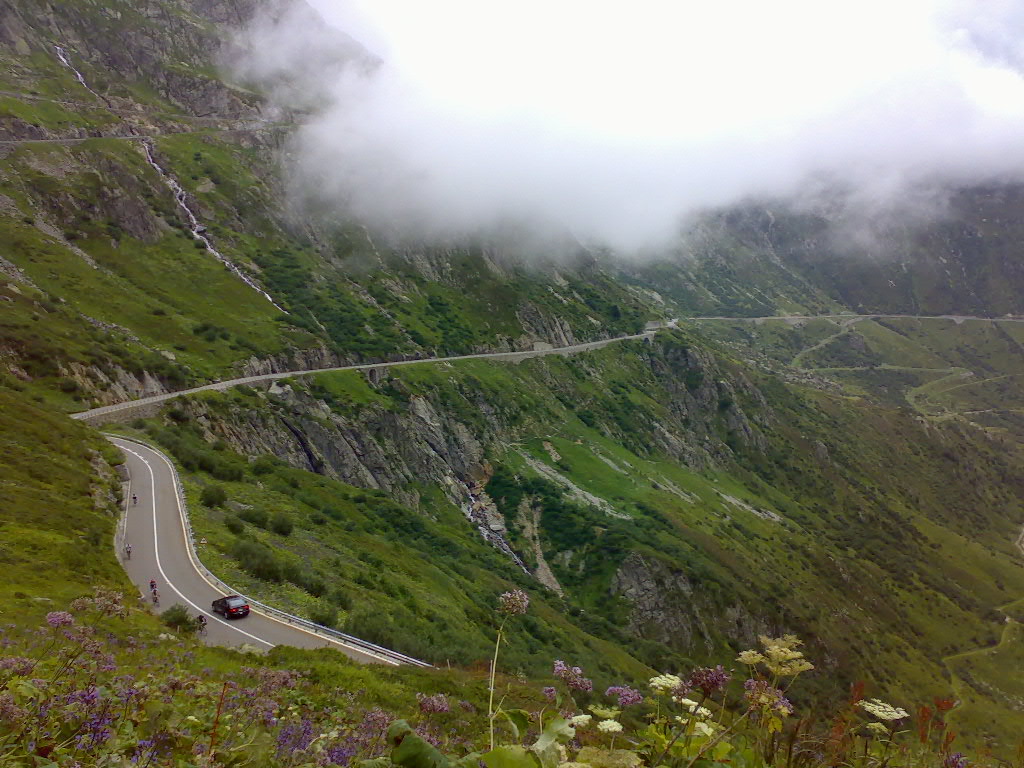 Afterwards the route winds up to Sustenpass and car traffic considerably calms down. The uphill ride is an everlasting long haul and rain clouds are approaching continously...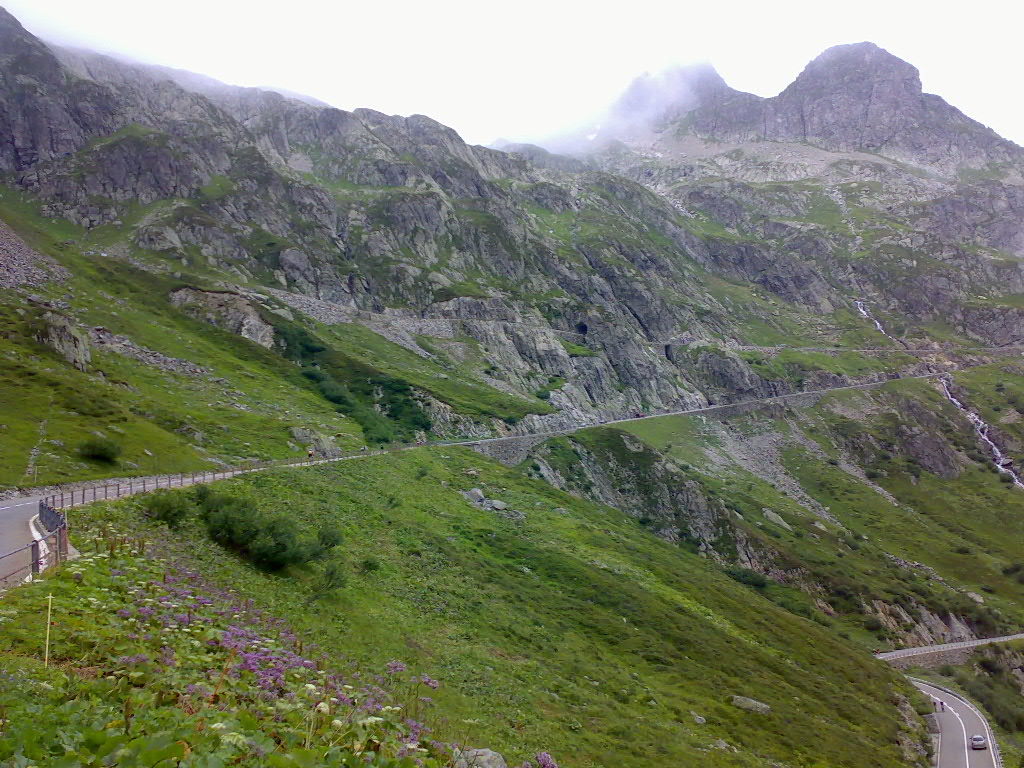 Endless eastern ramp of Sustenpass curls up and grants spectacular views of the landscape.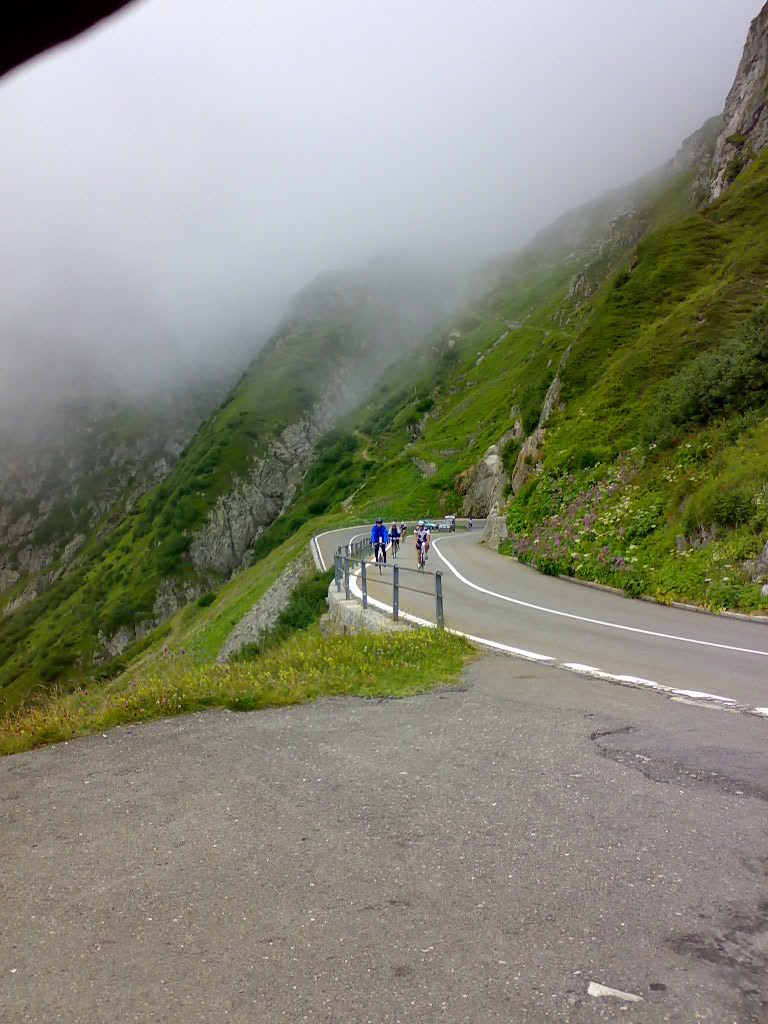 Shortly before the summit the riders are being swallowed by the rain clouds..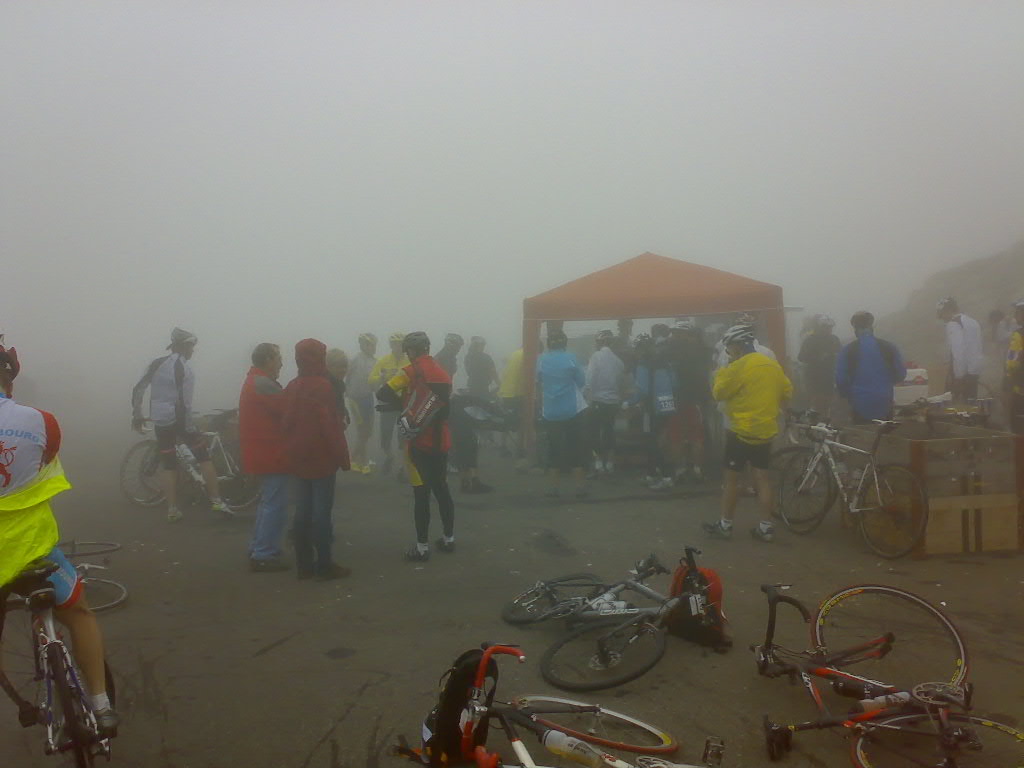 On summit a significant temperature drop down to less of 10 degrees Celsius and visibility of less than 20 meters. In addition heavy rain! Thus, the last descent down to Innertkirchen and Meiringen becomes a real adventure

Upshot: The Alpenbrevet is a distinguished well-organised event gaining its charmingness from being not that crowded such as other cycling marathons in the Alps. No helicopters, no fireworks but most spectacular scenery, adequate liquids and food, pleasant and friendly helpers and a personal welcome of each rider by name when passing the finish line - simply enjoyable!