In Austrian Oetz Valley a cablecar leads from Sölden village up to a restaurant on top of Gaislachkogel mountain above 3,000 meters altitude. This mountain station can also be accessed via an unpaved gravel runway being one of the very few ways in the European Alps exceeding 3,000 meters. Unfortunately, this runway is extremely steep and hardly rideable by ordinary cyclists. Well trained athletes may challenge this climb and will be compensated by gorgeous views of opposite road cyclist's dream roads Timmelsjoch and Ötztal Glacier Road.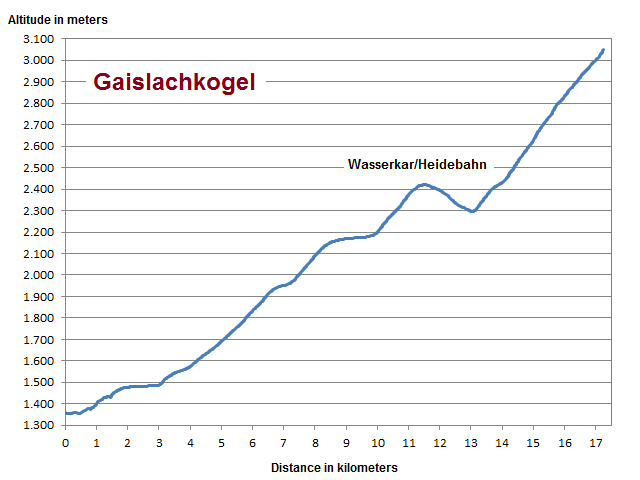 The profile shows the way via Gaislachalm to middle station of Gaislachkogelbahn at 2,174m. After that the steep ascent named "Stabele" commences up to the mountain station (here including an unplanned two kilometers ride to mountain station of Wasserkarlift/Heidebahn). On the last four kilometers to the summit the cyclist has to overcome an altitude gain of 700 meters.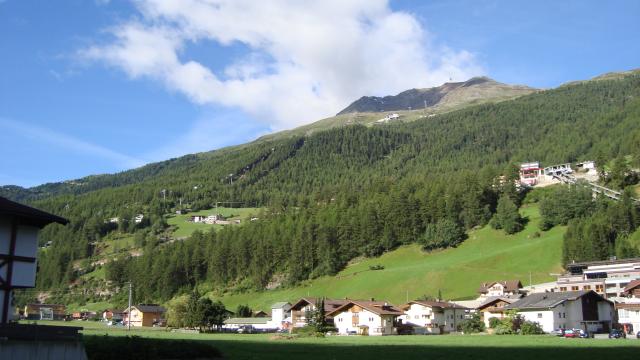 View from Sölden up to Gaislachkogel. Directly above tree line the middle station of the cableway becomes visible. The runway leads from the right back to the peak of the mountain.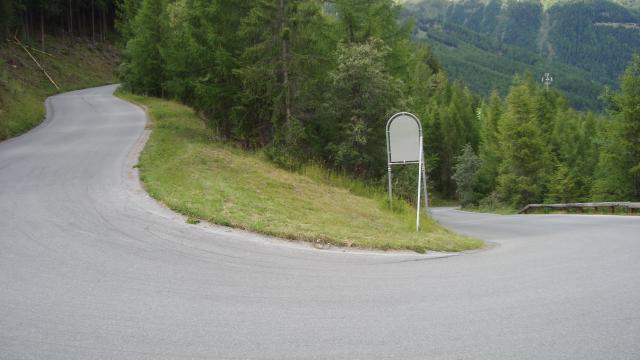 At first you follow mountain bike route 644 crossing in its lower part Ötztal Glacier Road.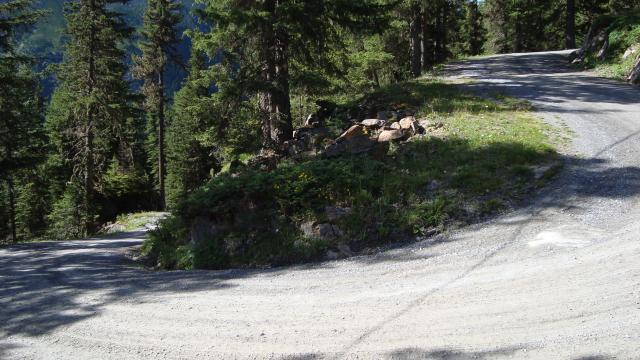 The way becomes a forest road...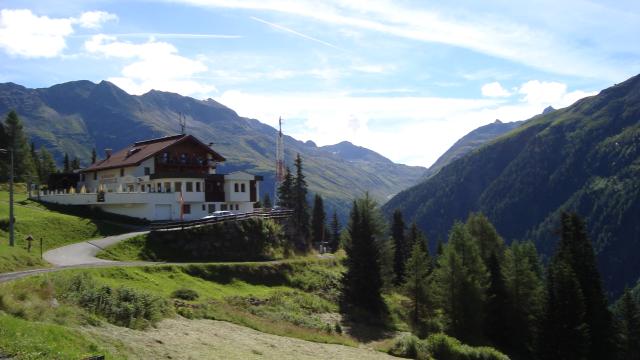 ...alongside guesthouses and mountain pastures.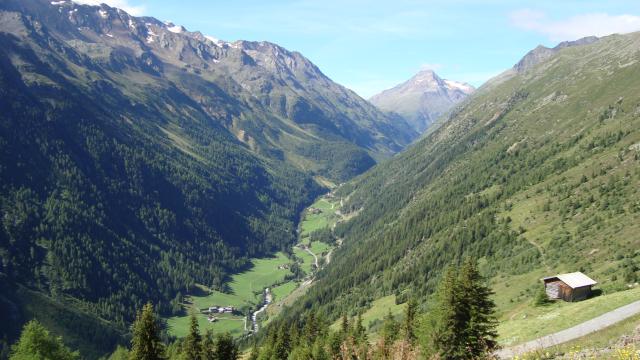 View down to Vent valley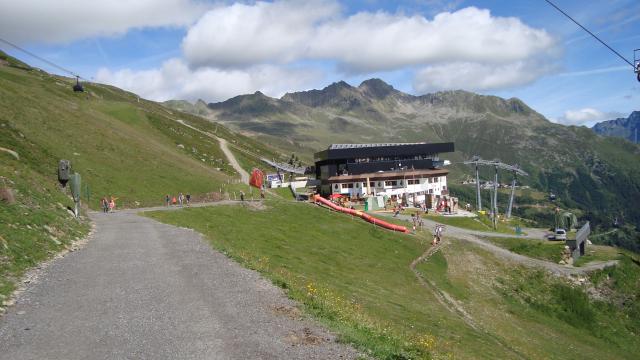 After some ten kilometers and 800 meters of altitude gain the middle station of Gaislachkogelbahn (2,174m) appears.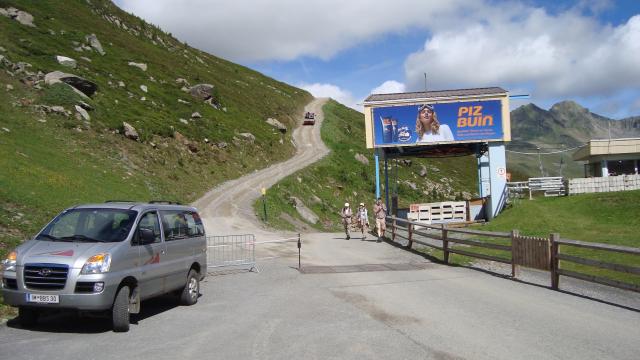 Now it becomes very demanding using the steep way in the center of the imnage. This runway leads up to the mountain peak (without being well signposted).
Do not follow this misleading sign!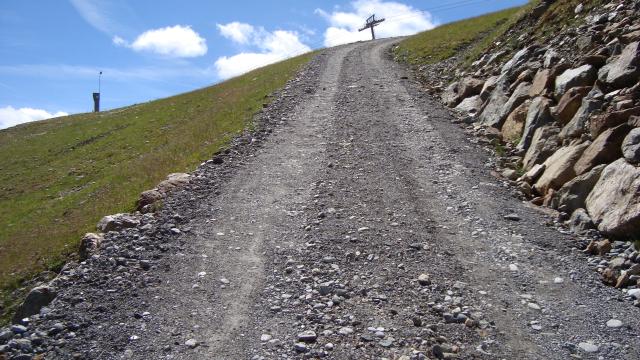 This is the wrong way...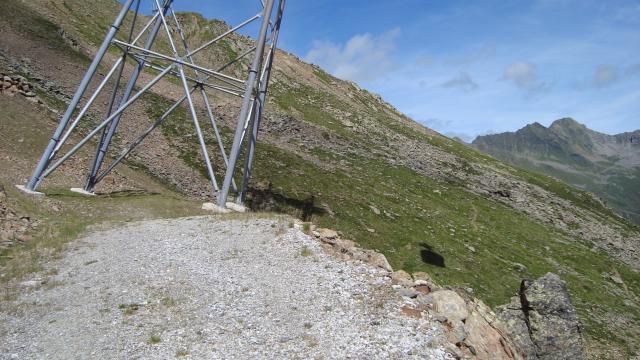 ...to mountain station of Wasserkarbahn/Heidebahn (2,400m) (giving a feeling of deja-vu of last year's climb to Wurmkogel.)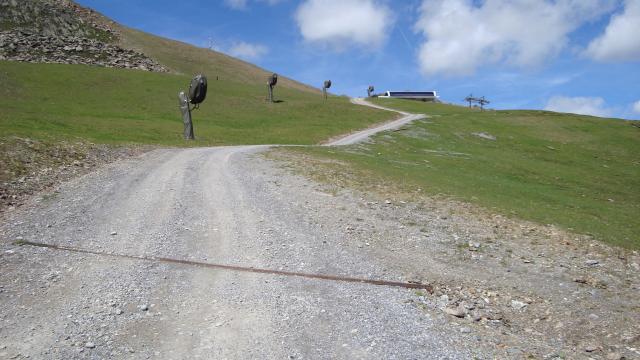 Returning to the correct way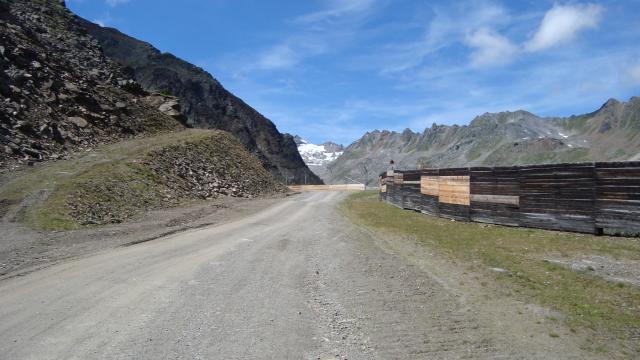 Only very few flat passages alternate with many very steep parts.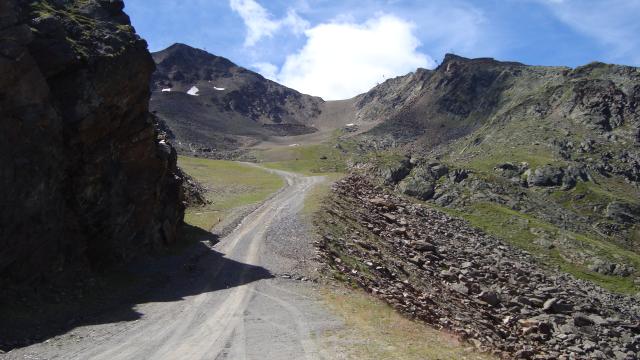 The way zigzags through this mountain cirque.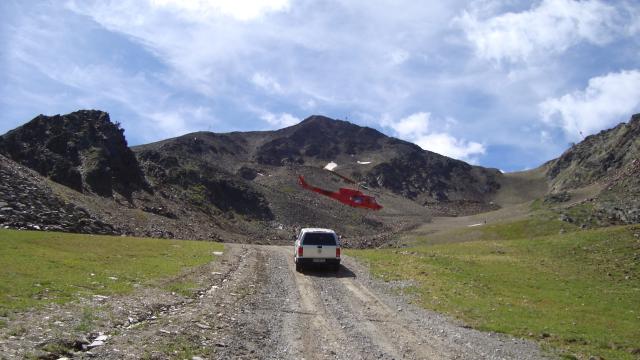 James Bond was here in his last "Spectre" movie. And also today an exciting show happens with a helicopter transporting heavy parts of a material ropeway down to the valley.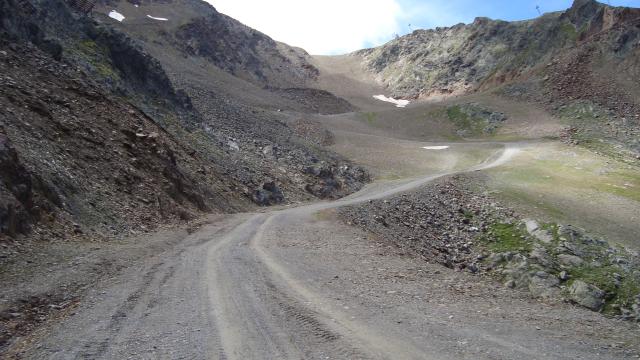 Unfortunately, I am not James Bond but exhausted without any more water and food. Pushing the bike instead of riding :-(
View back to the ascent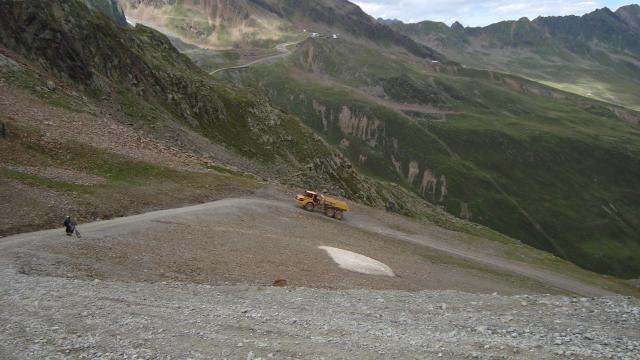 The yellow truck car gives an idea of the gradient of the runway.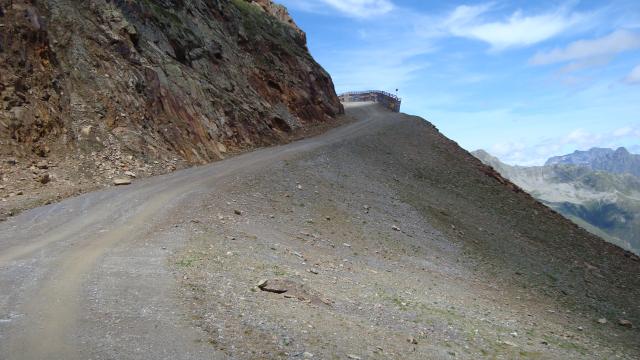 Continuing the way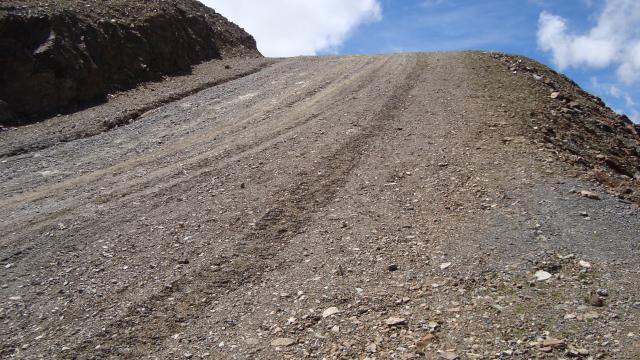 The way stays very steep.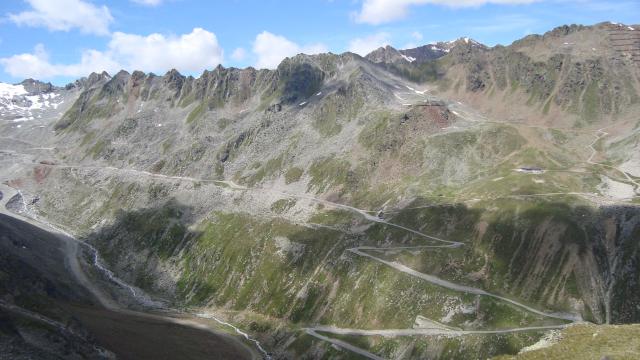 Splendid view of opposite Ötztal Glacier Road!
Ötztal Glacier Road and Gaislachkogel summit (360 degree panoramic view)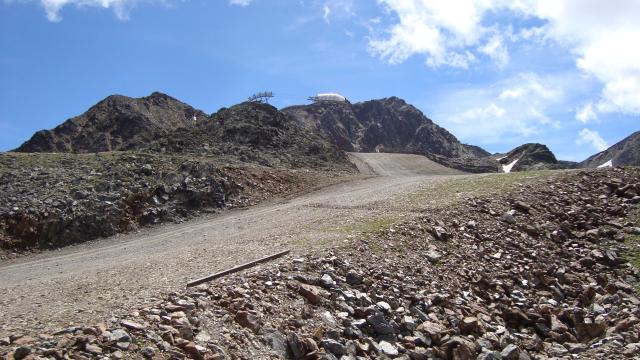 Mountain station becomes visible for the first time.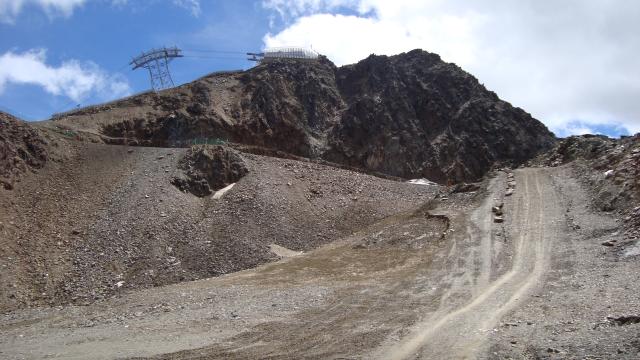 Still very demanding...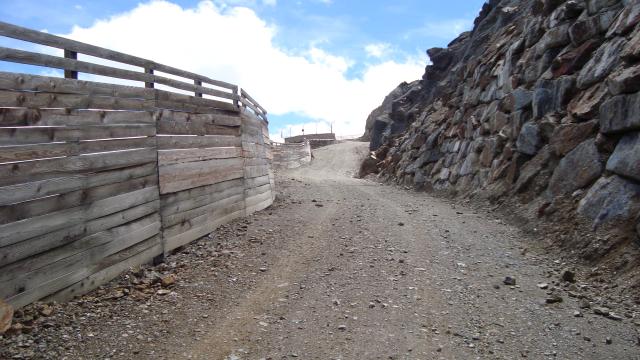 The runway passes this narrow spot right below the summit.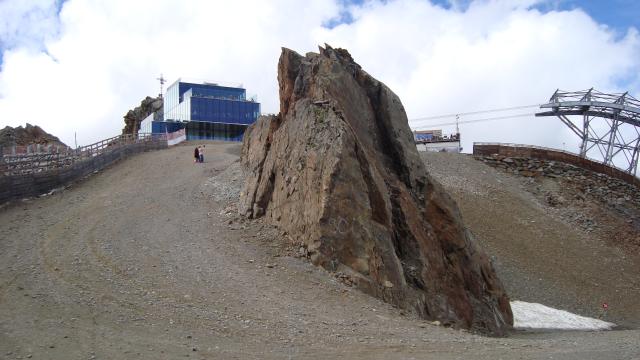 Last curve
And finally you have reached mountain staion of Gaislachkoglbahn at an elevation of more than 3,000 meters.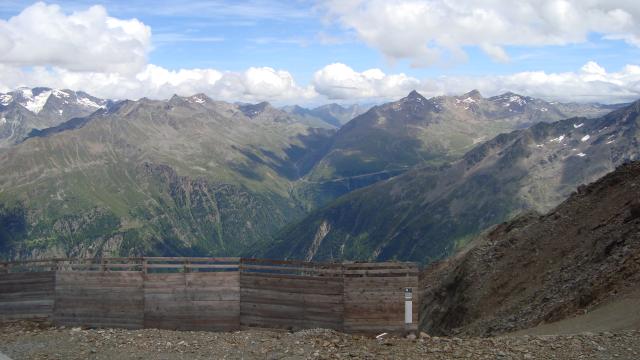 In the very back the northern ascent of Timmelsjoch and to its right Wurmkogel mountain
Summit area Gaislachkogel (360 degree panoramic view)