Departing from French Les Deux Alpes an unpaved road leads up to Col du Jandri (Glacier de Mont de Lans). A panoramic restaurant is situated there at an elevation of 3,150 meters and provides amazing views to the Glacier Mont de Lans. This runway is one of the highest trafficable roads in the Alps (you can get even higher at Theodulpass 3,332m and Hohtälli 3,286m). The road is signposted as mountain bike cross-country course and is even used by motorised heavy vehicles. However, the way has some very steep ramps and even as a well-trained rider you may have to push your bike in some parts. In late summer the climb up to Col du Jandri is one of the very rare opportunities to ride at an altitude of more than 3,000 meters in the Alps.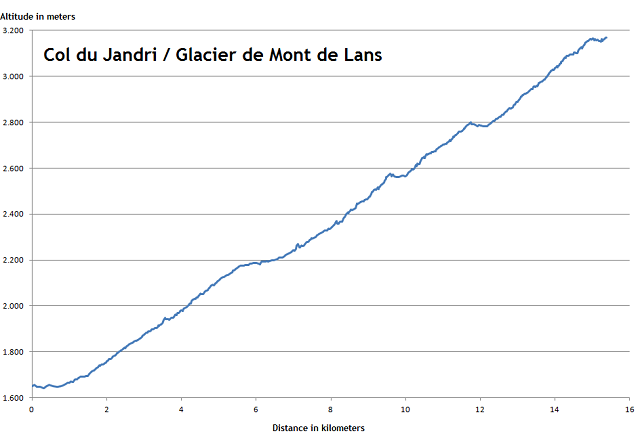 The way has an average grade of more than 10%. Short flat passages are located at an elevation of 2,200m and almost 2,600m at respective cablecar stations and finally at 2,800m. Between these spots you have to challenge some very steep grades which require both physical strength and a very low gear.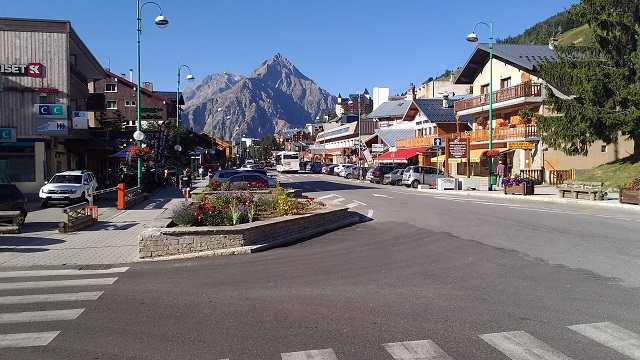 The tour starts in busy Les Deux Alpes. Besides several summer skiers the village is mainly crowded by mountain bikers examining one of Europe's most popular downhill areas.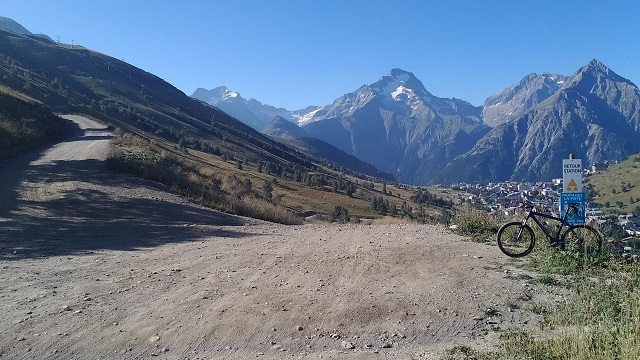 The unpaved way winds up...
..and provides even in its lower part some steep slopes.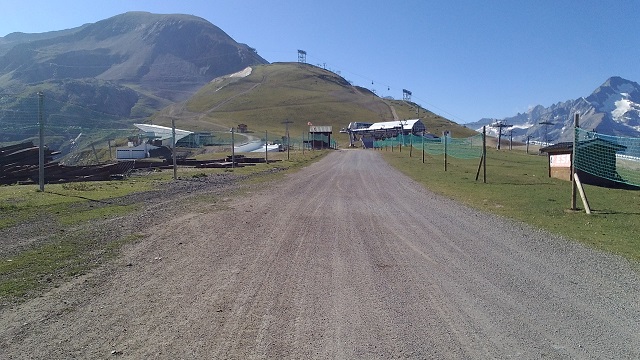 One third of the total distance has been passed at the cablecar station "Cretes" at an altitude of 2,200 meters. But only behind this spot the way becomes much more intersting and demanding.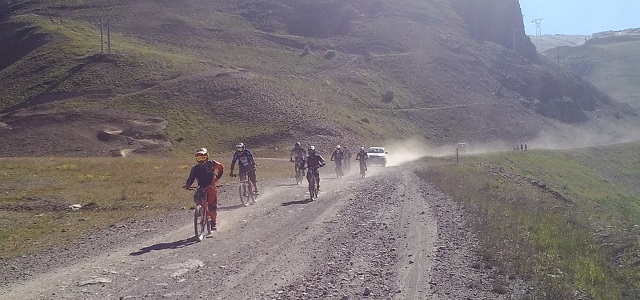 Several downhill riders cross the way on their full-suspension bikes having used the cablecar before to get to the top.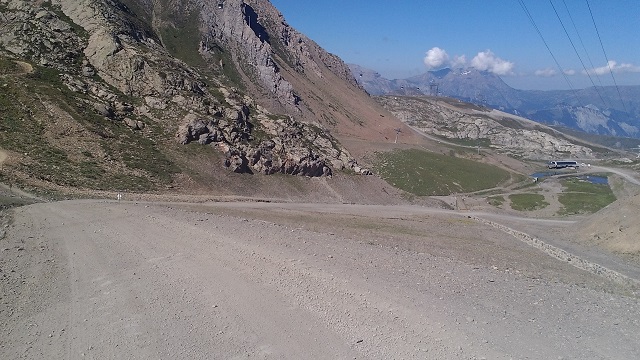 View down to one of the very steep slopes - but still cyclable..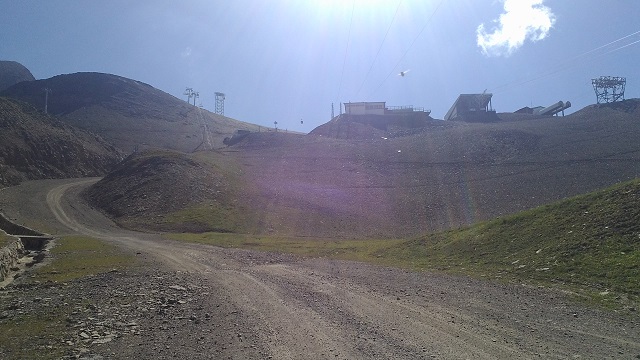 Shortly before the cableway station "Toura" at an elevation of some 2,600m the way becomes extremly steep behind the following curve.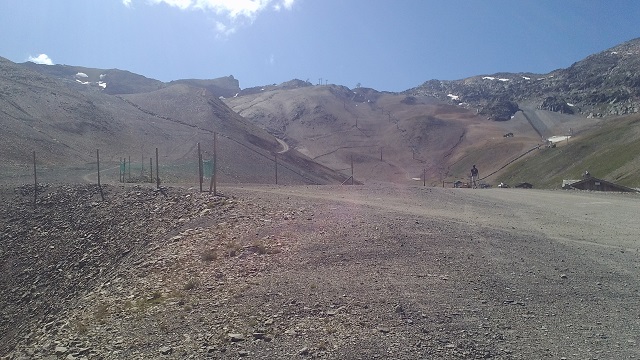 Behind the station the way turns slightly sandy and dusty. Further runway can be identified left of the image center.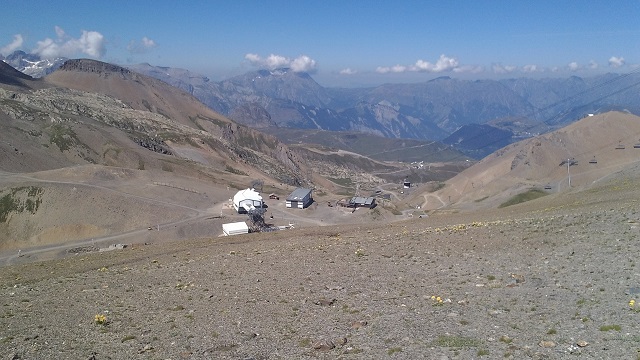 View back to cableway stations "Toura" and "Cretes"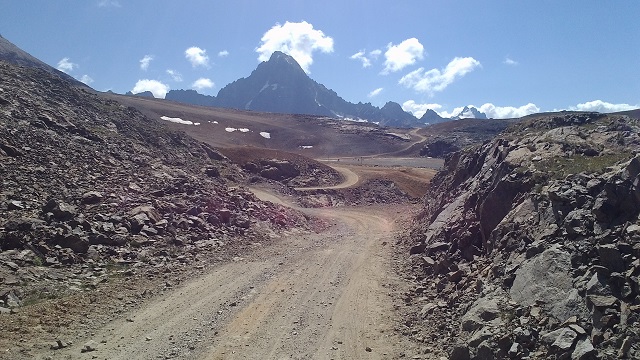 This is the view to a short flat passage at some 2,800 meters.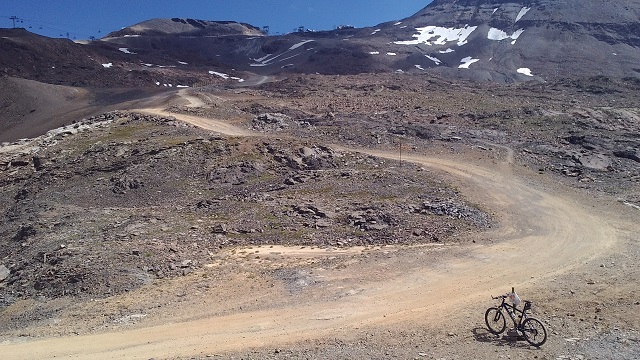 At the very top today's objective can be seen for the first time: Upper mountain station "Glacier". Behind that a huge Glacier area is located which is opened even in summer to snowboarders and skiers.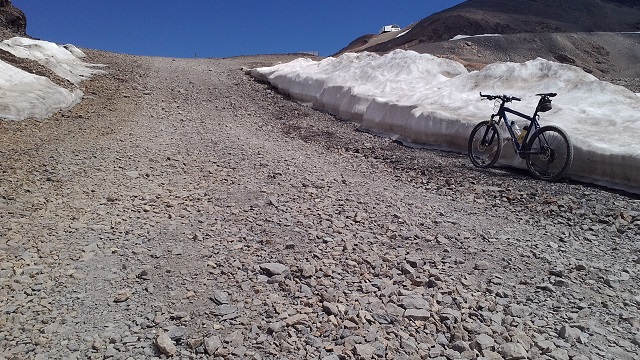 Howver, at an elevation of some 2,900 meters this short part can hardly be cycled anymore as the way is steep and very stony.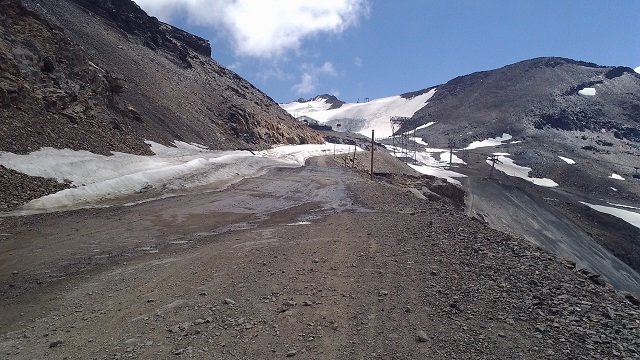 The final thousand meters..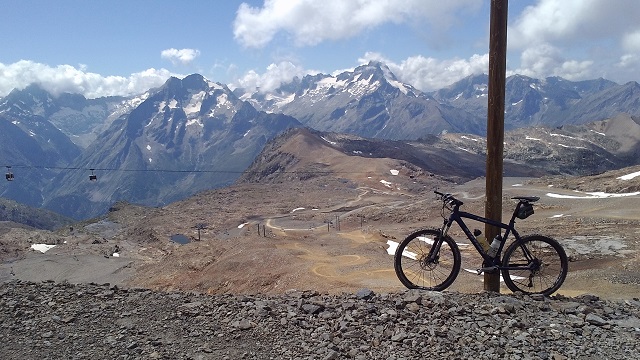 Amazing scenery!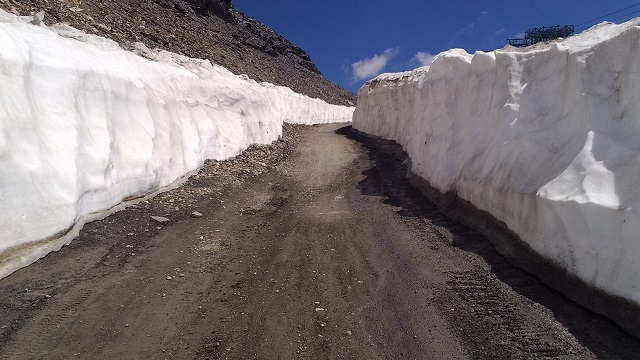 Metres high walls of snow border the last part of the climb.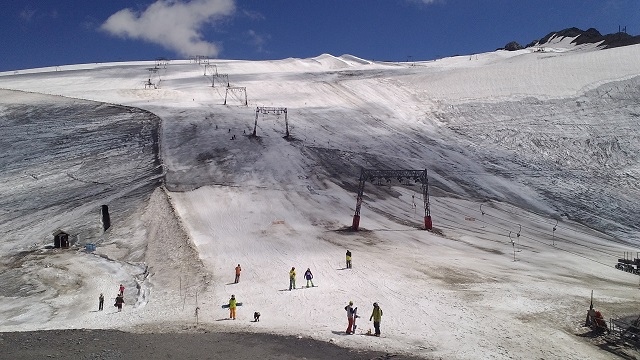 And then you actually stay in front of the Glacier de Mont de Lans...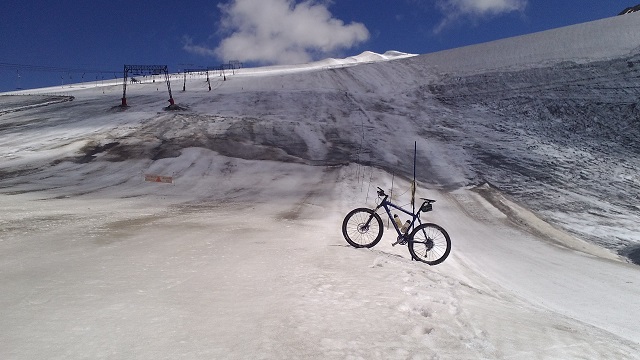 ..and finally even on the ice. At the annual "Mountain of Hell" downhill race thousands of downhill riders start right here on the Glacier and rush down to Les Deux Alpes!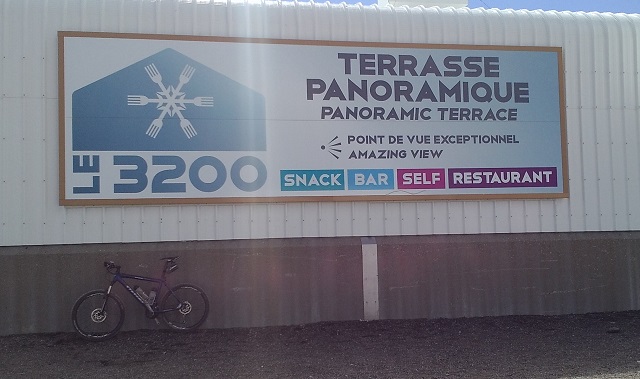 GPS measured altitude: 3,178 meters above sea level
Conclusion: Although I had to push my bike significant parts of the climb this way can generally be classified as cyclable. With a smaller gear (34 or even 36 in the rear) or a 29 inch bike, better trained and may be with some acclimatization it should be feasible to ride the whole climb. Due to its almost 3,200 meters of altitude this runway is one of the highest mountain roads in the Alps. Even with some pushing parts this ride is an awesome experience in gorgeous mountain scenery. You can do it even more demanding by starting the ride from Bourg d'Oisans up to Les Deux Alpes. Thus, the climb extends to even 2,500 meters of constant altitude gain.