Iran's most popular ski areas Shemshak and Dizin are located in the Alborz Range north of Tehran. Both villages are linked with an asphalted mountain road leading over Dizinpass. In winter this passroad is covered with metres high snow but in summer it can be challenged by bicycle.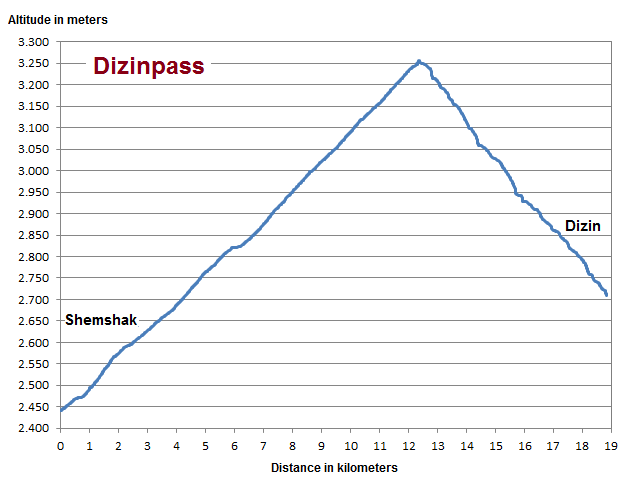 The profile reports the way beginning at an elevation of 2,450m in Shemshak. The road winds with an average grade of 6.5% up to pass summit and finally it leads down to the village of Dizin with an average decline of some 10%. Starting the ride down in the outskirts of Tehran at an altitude of some 1,800m can create an even more demanding climb.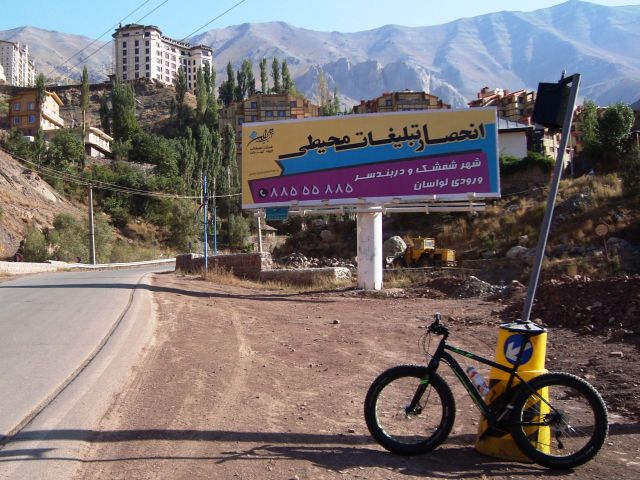 The Iran cycling adventure starts in Shemshak.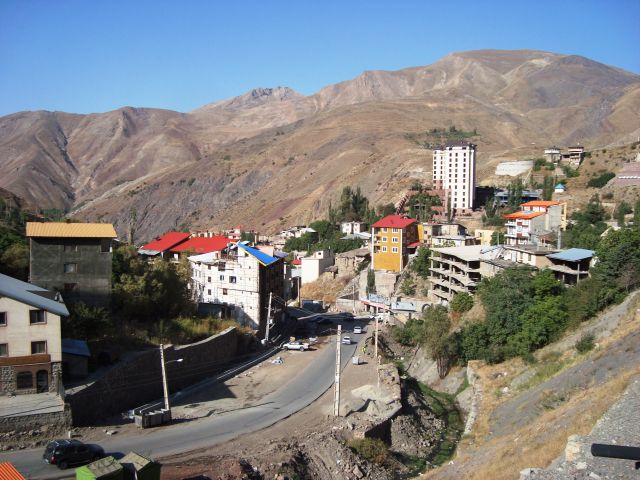 The small village is only a ski resort without guests in summer.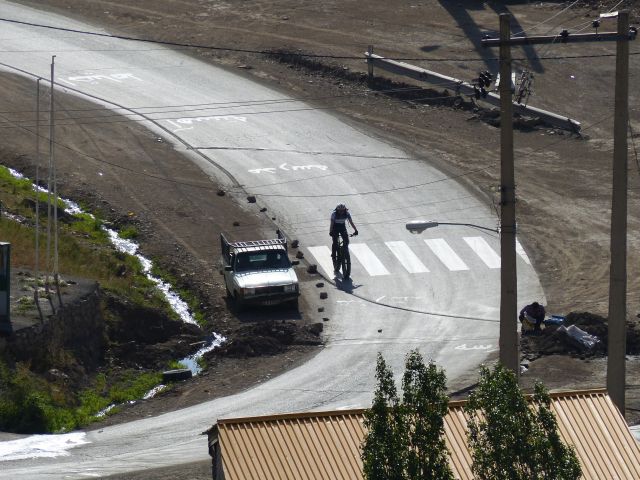 View down to the lonesome rider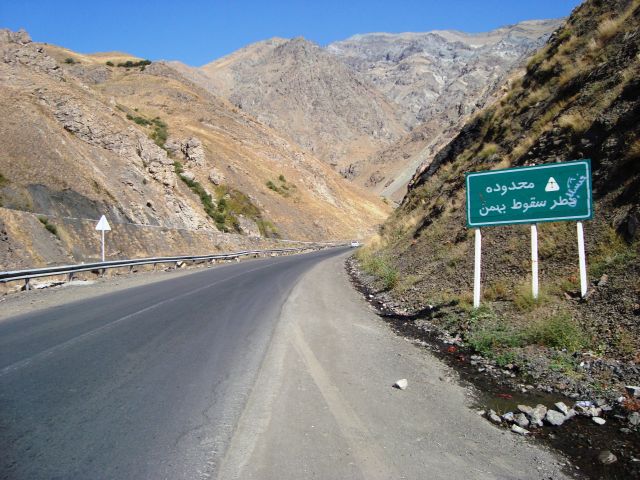 Road conditions are surprisingly good.
Alborz mountain range is dust-dry in late summer. Tehran still has temperatures of more than 30 degrees Celsius in mid-September but in the mountains it has pleasant 20 degrees.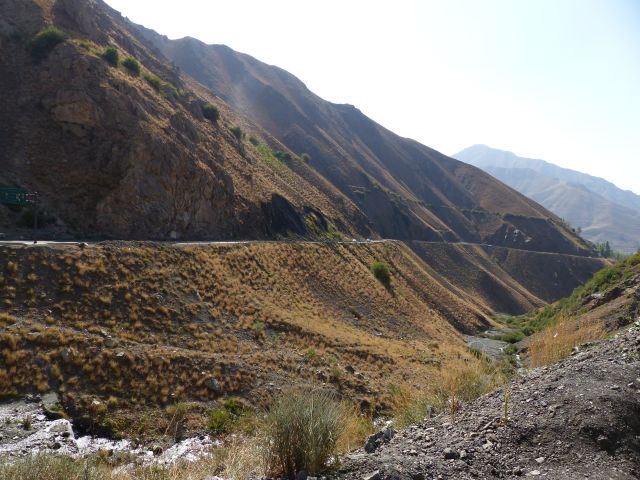 The climb has a continuous grade of 6 to 7%.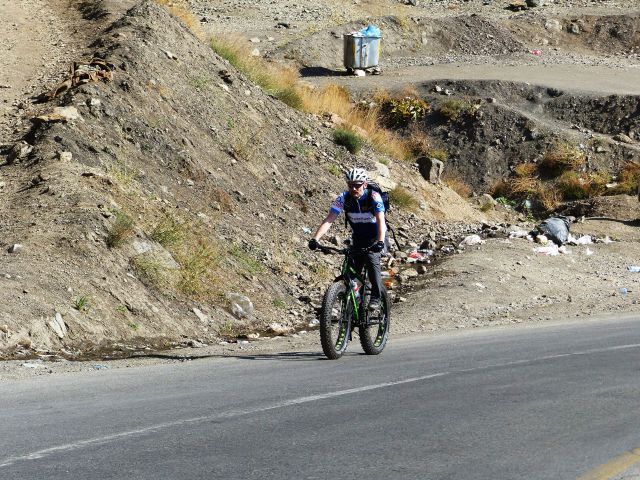 Lot of waste alongside the road does not make the area very welcoming.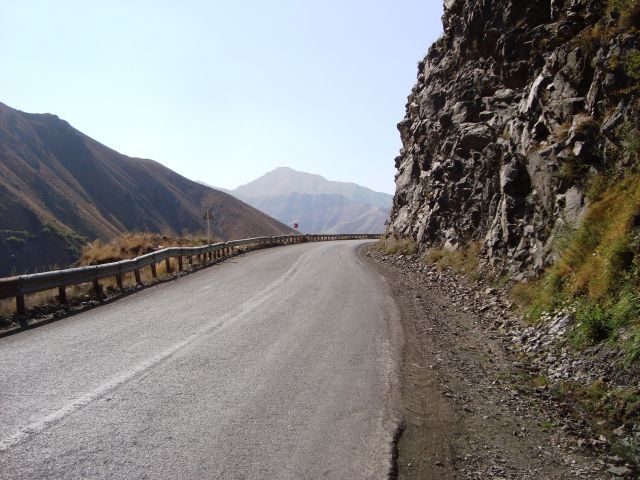 However, the way continues on a pleasant road.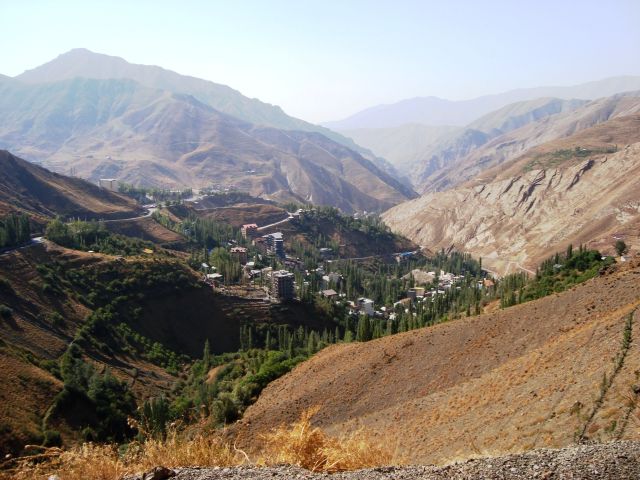 View back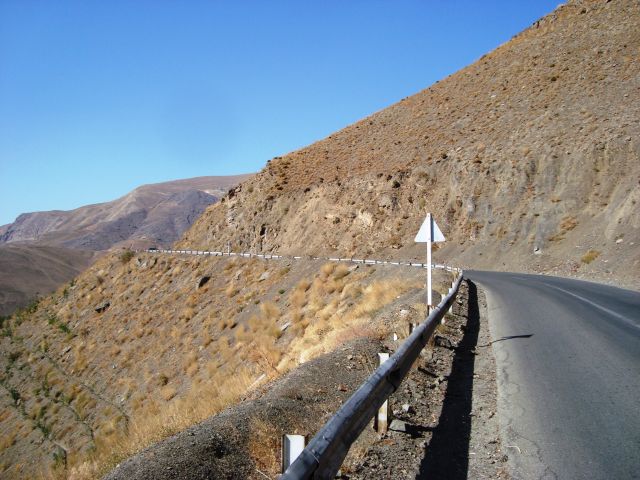 Only very little traffic on today's Saturday. In contrast, however, on islamic weekend Thursday and Friday thousands of cars block the road.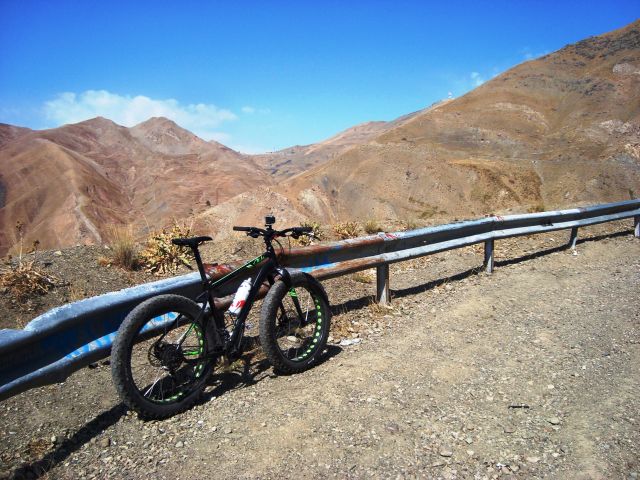 Pass summit appears in the back in the center of the image.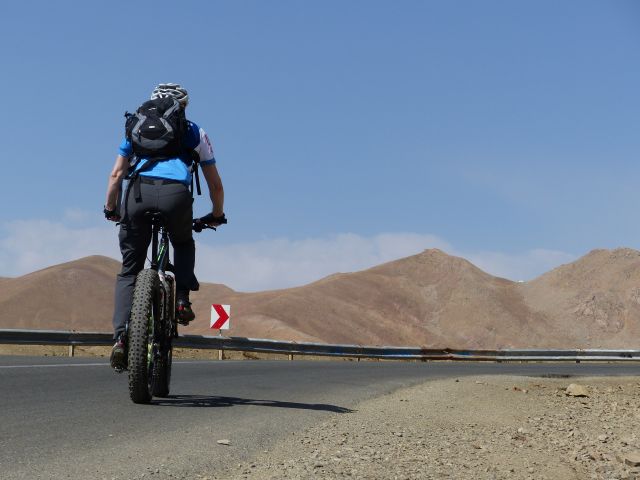 Wearing shorts is frowned upon in Islamic Republic of Iran unless you practice sports. Anyway, I opted for long pants.
At an elevation of some 3,000 meters (360 degree panoramic view)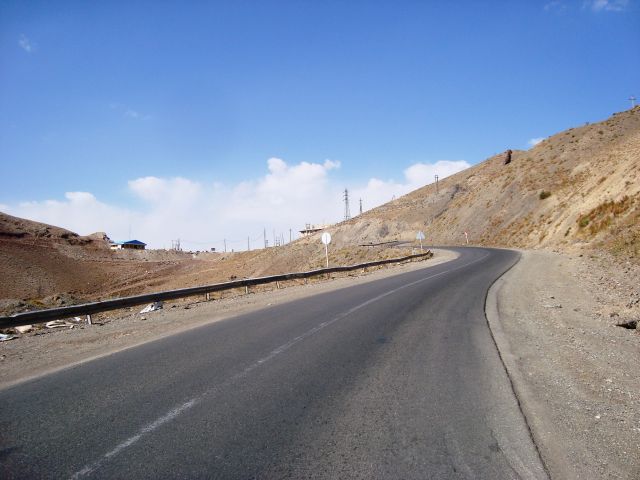 Shortly before pass summit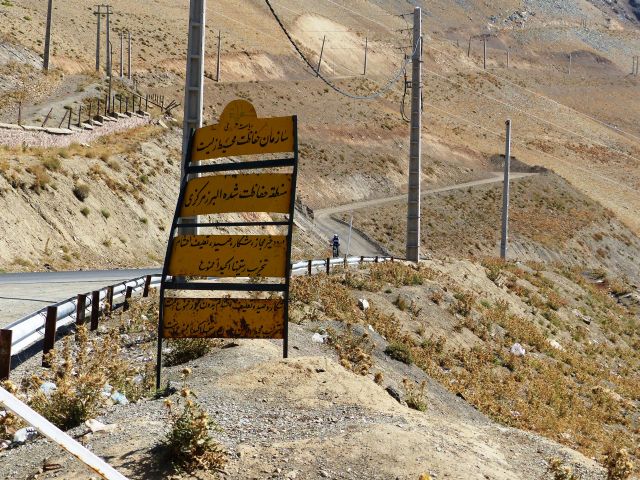 The last meters...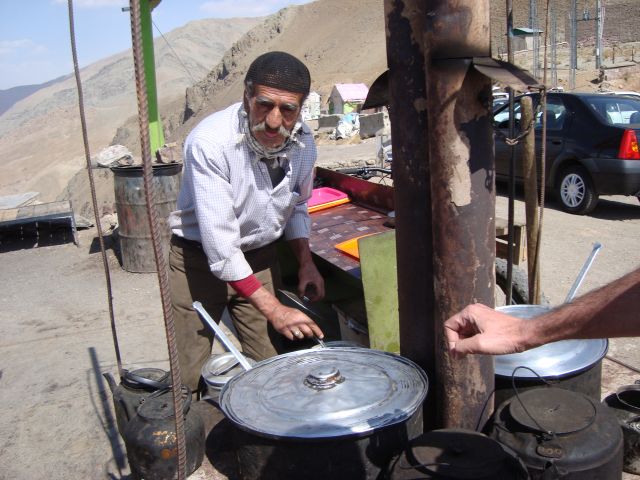 A local culinary specialty is awaiting the cyclist on pass summit: The hot vegetable stew named "Ash" is very tasty!
Pass summit (360 degree panoramic view)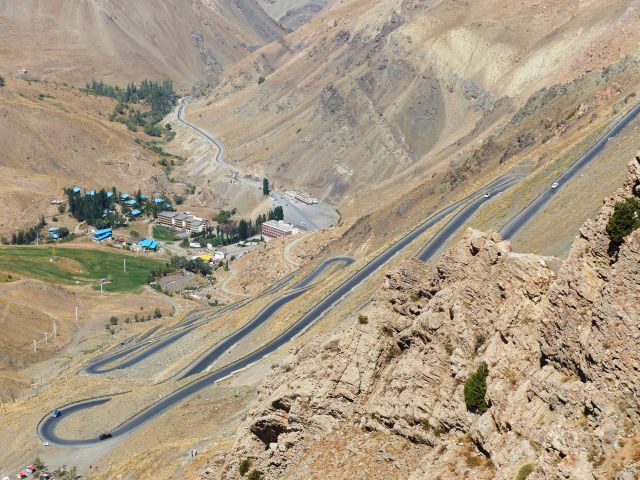 Breathtaking view down to Dizin with its blue roofed huts.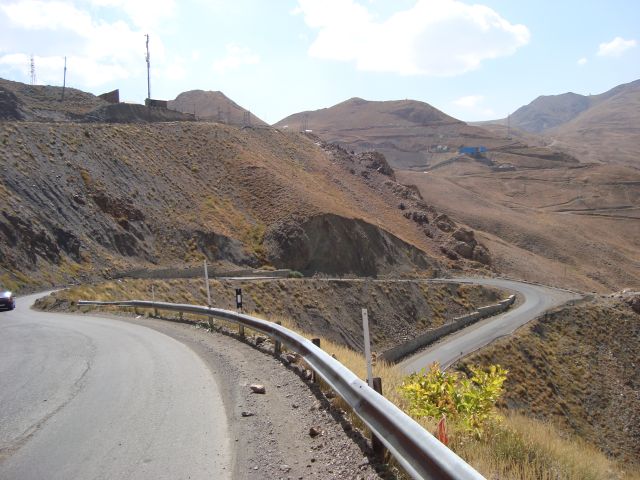 The descent ride is fast...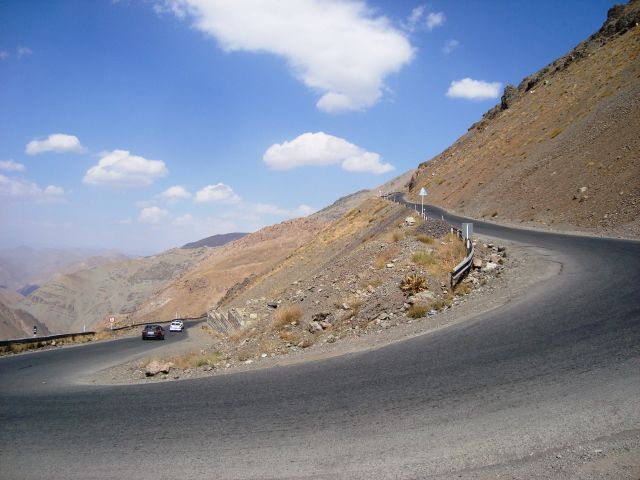 ...and furious!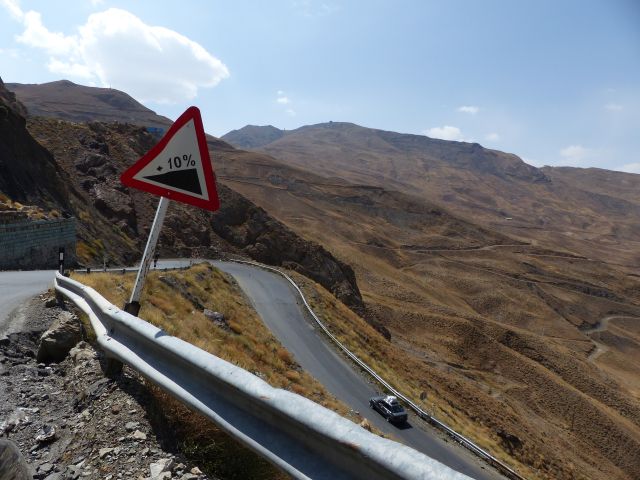 Great fun!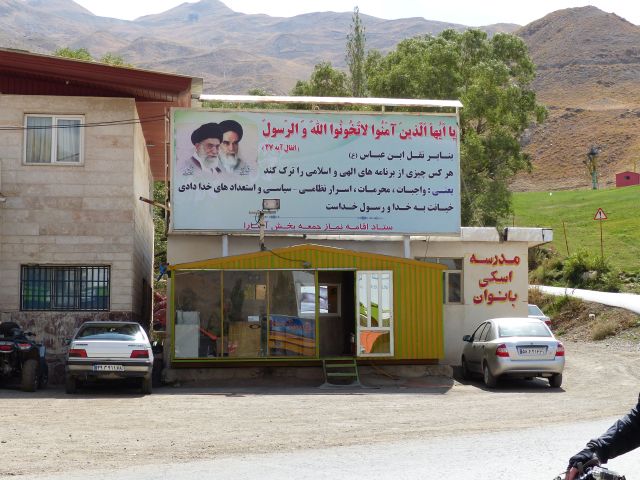 Down in Dizin the eyes of both Ayatollahs guard the scenery - like all over the country.