Ötztaler Cycle Marathon 2009
Kühtai - Brenner - Jaufenpass - Timmelsjoch
There you go! After the disaster in 2008 (see below) this year successful participation in Europe's most prestigious cycling marathon: Ötztaler Cycle Marathon! The only goal was to finish within the rigorous time limit! Preparation was pretty lousy this year: Only 1,900km of riding since March comprehending participations in Maratona dles Dolomites and Alpenbrevet with poor finishing results. This year's arrival was already on Friday and thus there was plenty of time to enjoy on Saturday the thermal baths with its 36 degrees Celsius. On race day some 4,000 participants started early in the morning at 6.00am accompanied by fireworks and helicopters. Dü to the time limit no photographs or videos were taken during the ride and therefore you can find below only some pictures taken prior the event.
Start: Sölden 1,377m
Altitude difference: 5,209m
Distance: 232km
August 2009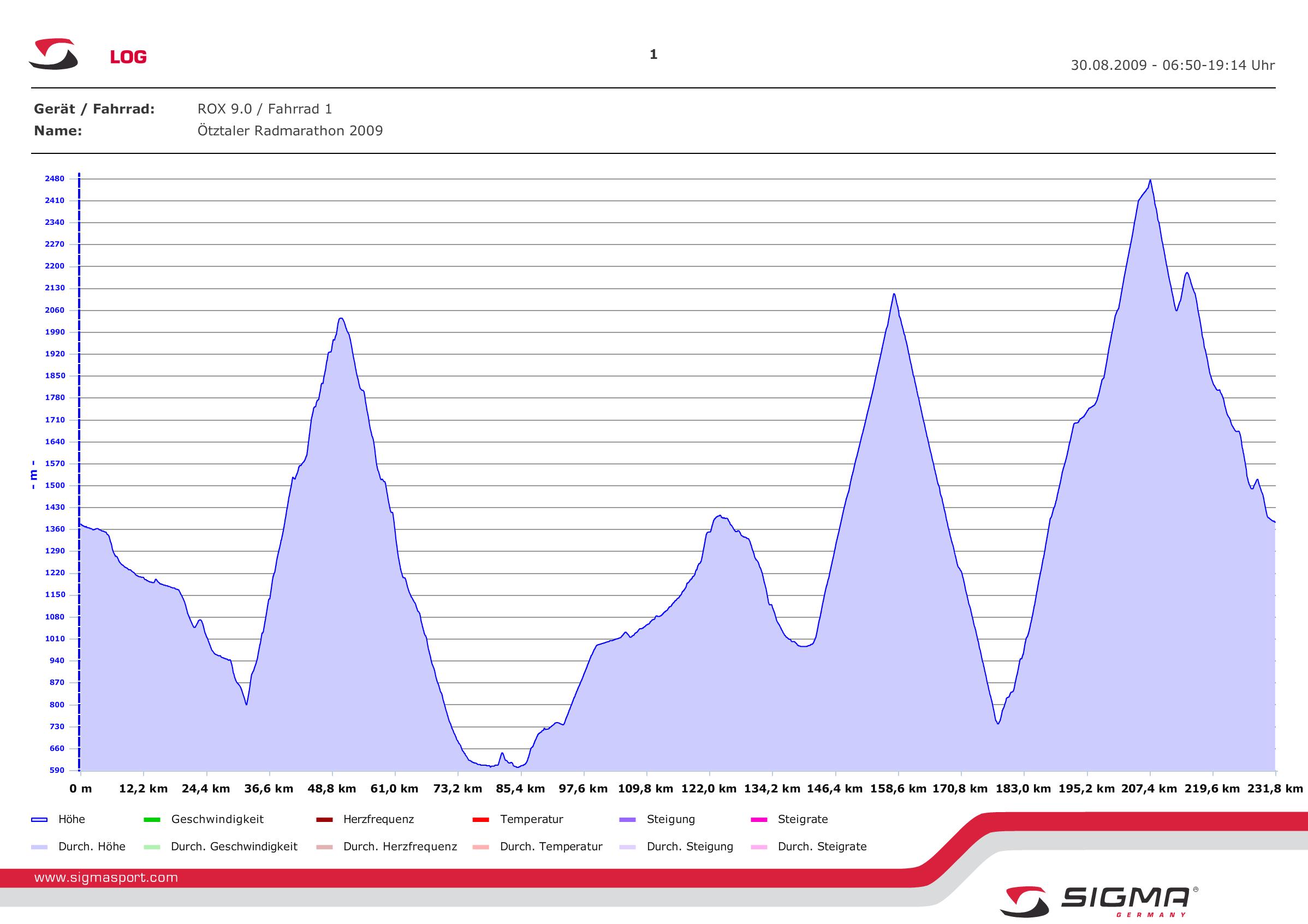 At first there is a descent ride from Sölden to the village of Ötz. From there the course leads up to Kühtai at an altitude of more than 2,000m. Afterwards the way routes to Innsbruck and from there moderatly uphill to Brennerpass. If you only want to finish you should seek at Brennerpass for a suitable group of other participants. Thus, it becomes much easier to curl up the sustained passroad. In South Tyrol the subsequent Jaufenpass follows with its altitude of almost 2,100m. This pass became already in the previous year the guillotine and was also in 2009 only brutal. Finally you have to challenge thrilling southern ramp of Timmelsjoch up to an altitude of 2,509m. If you have passed Timmelsjoch summit until 7.30pm you can comfortably ride the last downhill to Sölden whereas the last climbs at the toll gate and in Zwieselstein force your very last power.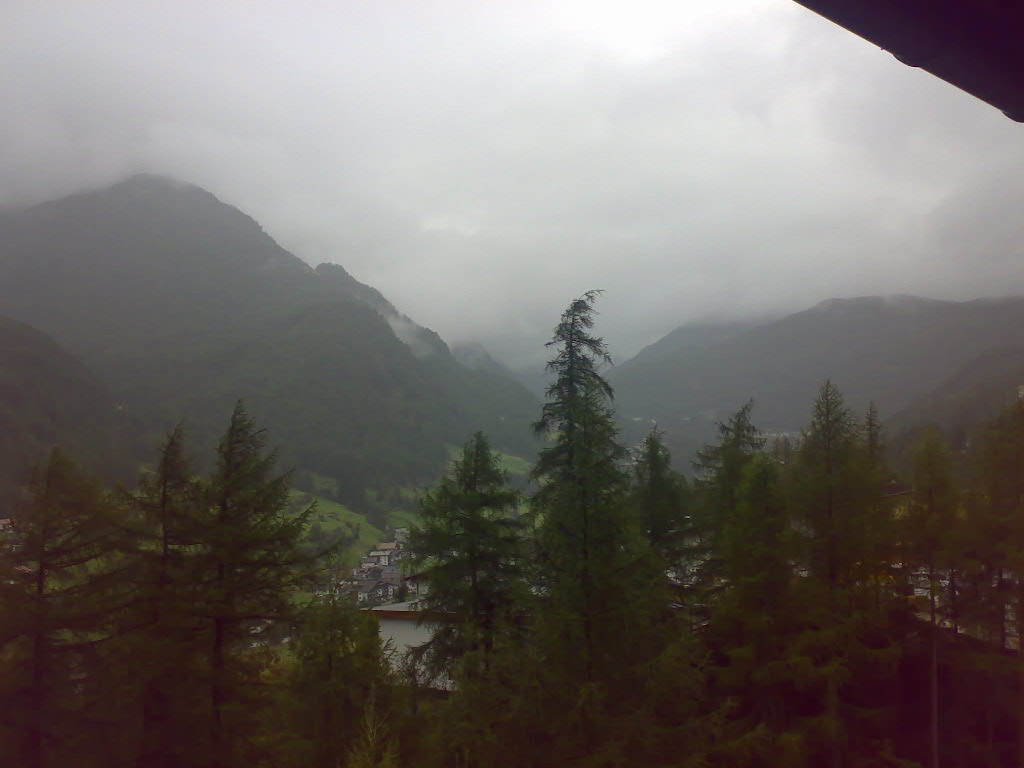 On the day before the race weather conditions were nasty. View from the hotel to northern ramp of Timmelsjoch. However, on following race day perfect weather conditions with blue sky and temperatures between 5 degrees Celsius at the start and more than 30 degrees Celsius at the foot of Timmelsjoch.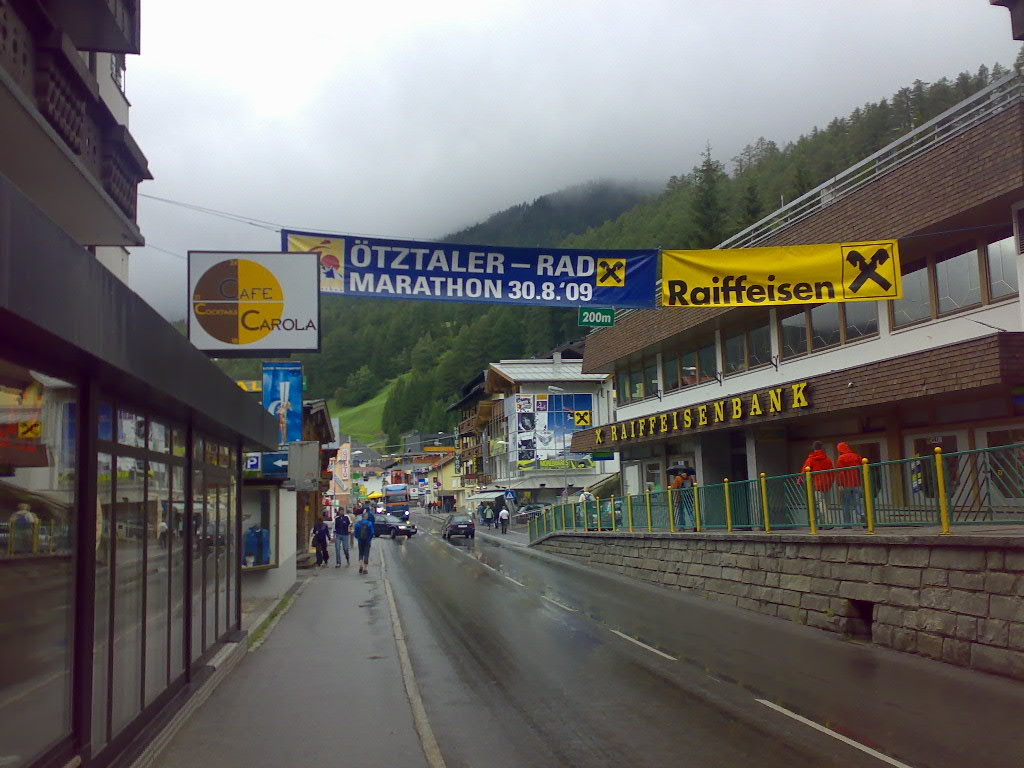 Sölden fills up during the day. Italian language dominates, although only 1/5 of the participants are actually from Italy.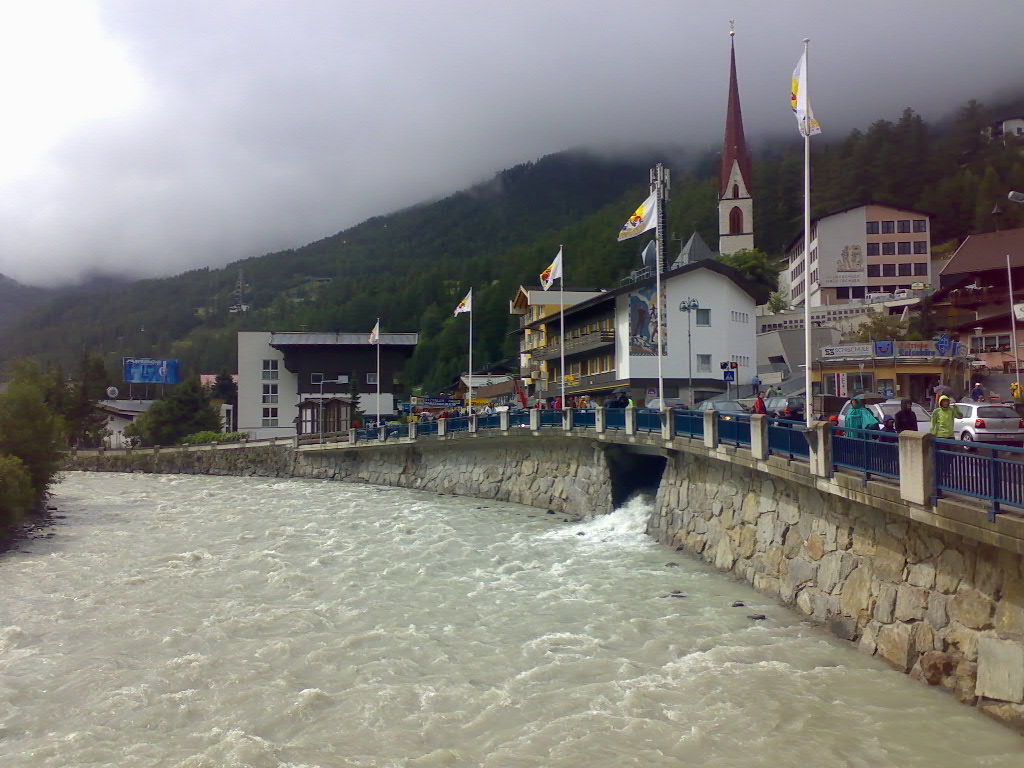 Flags in the village refer to the big event.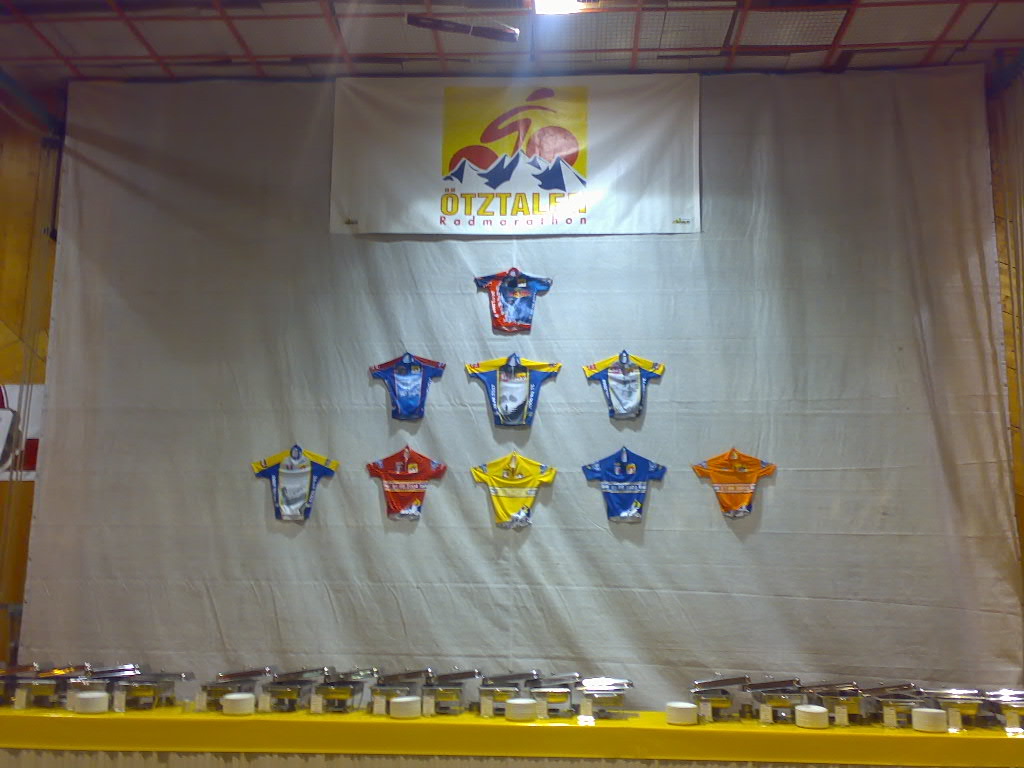 Parade of Finisher-jerseys in the event hall. The one at the very top was rewarded to all finishers in the year 2009!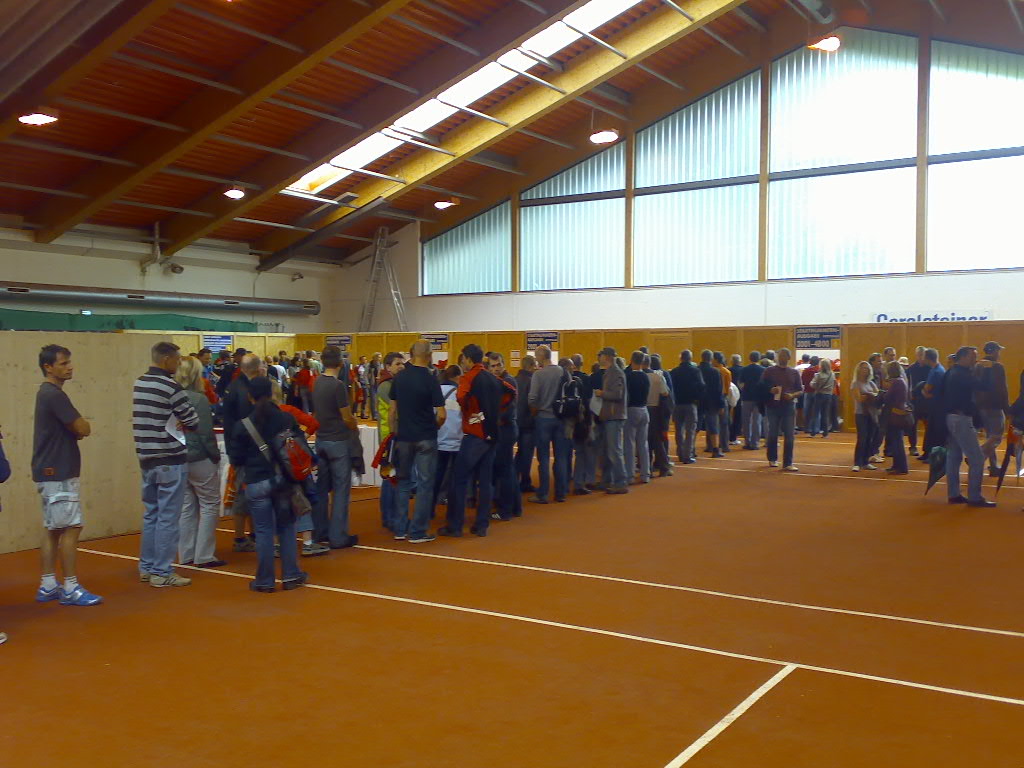 Long ques at race package pick-up on the day before the race.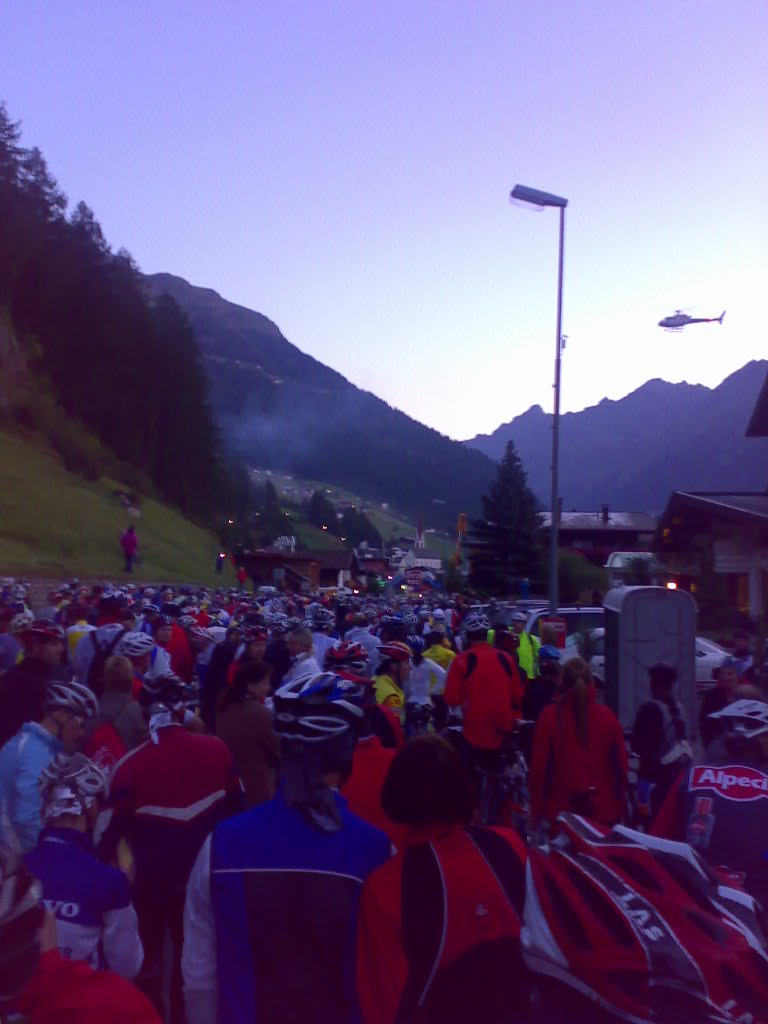 Common picture of the start line up: Nervous crowd of participants waits some 45 minutes for the starting signal stretching muscles and/or chatting with neighbours (some may only think of the beer after finishing!).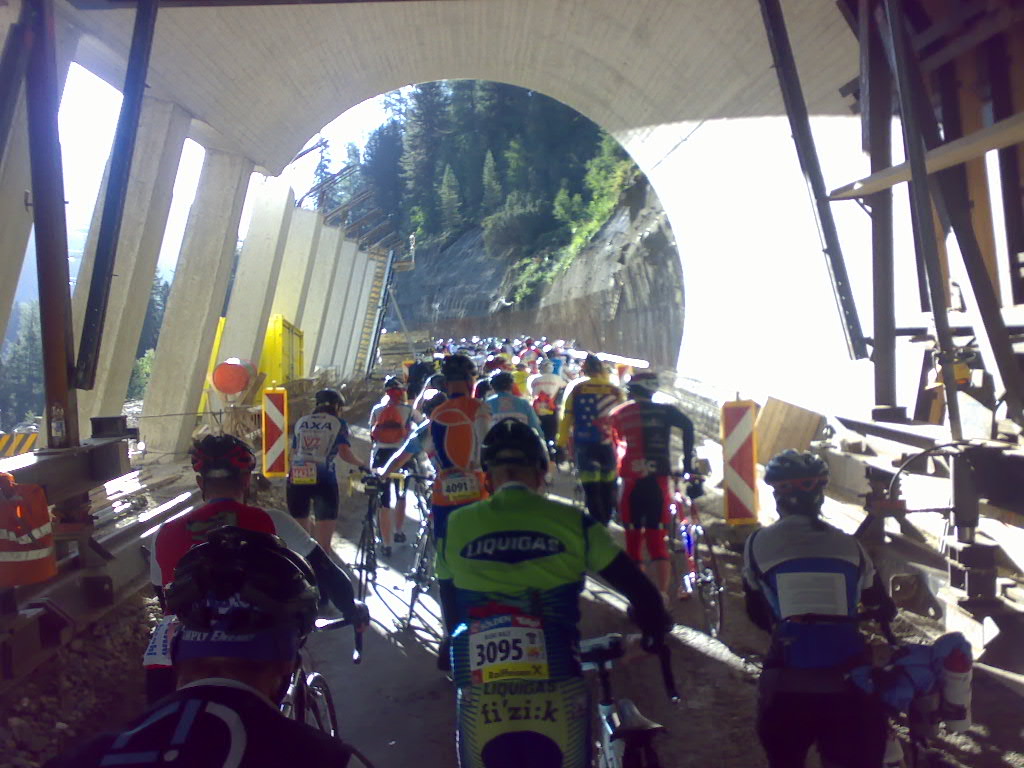 Short involuntary break at Ochsengarten/Kühtai due to a construction site. Riders have to push their bikes...


Ötztaler Cycle Marathon 2008
Minutes of failure
Kühtai - Brenner - Jaufenpass - Timmelsjoch
Ötzi - the popular legend among cycling marathons took place in 2008 in its 28th edition. The course has an official distance of 238km and 5,500m of altitude difference. Thus, Ötzi Marathon is longer and more demanding than its French equivalent La Marmotte. In 2008 again only 4,000 cyclists were allowed to ride the marathon. Only luck of the draw could guarantee one's start at 6.45am in Sölden. Anyhow, this year only troubles: At the airport in Munich the bicycle was missing at first and did only appear after hours of delay (was apparently carried in another aircraft). The camcorder was broken-down already before the journey, did not survive the Himalayas-Trip few weeks before. And in addition significant pain in the left Achilles' tendon...
Start: Sölden 1,377m
Altitude difference until termination: 4,165m
Distance until termination: 201km
August 2008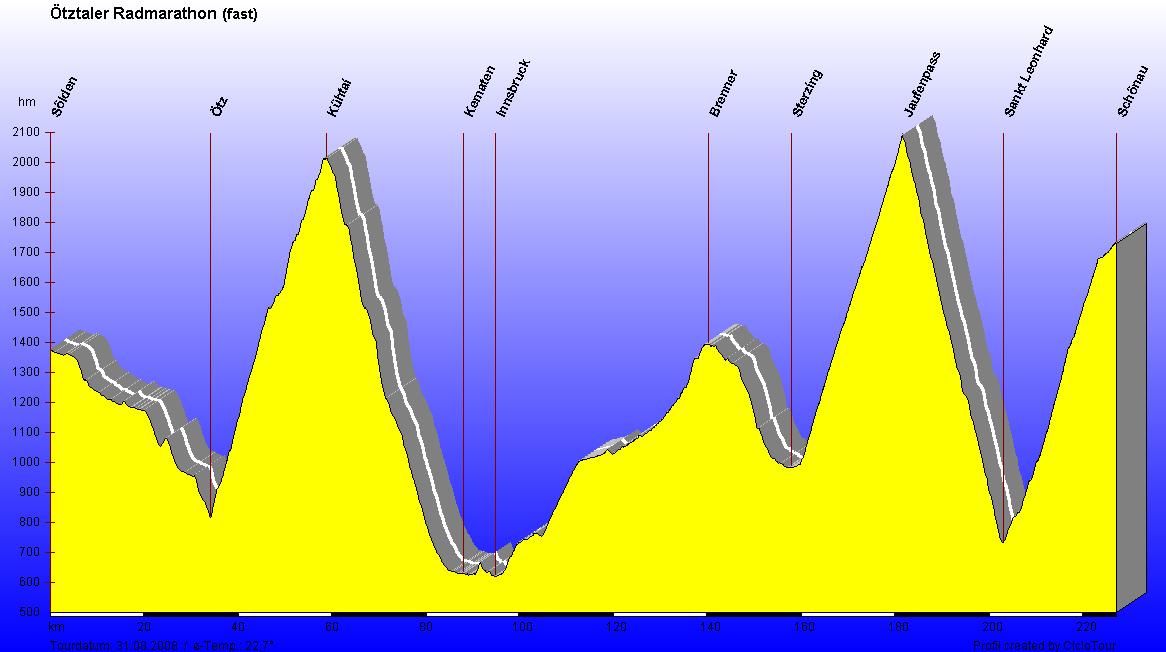 Impressive profile starts in Sölden, leads down through valley of Ötz and then up to Kühtai. Subsequent descent towards Innsbruck is one of the most popular high-speed roads of the Alps. Afterwards you have to ride uphill to Brennerpass in direction to Italy. In Sterzing eastern ramp to Jaufenpass is followed by the descent down to St. Leonhard. After some 180km the final way up to Timmelsjoch becomes the executioner. Unfortunately, my journey ceased at Timmelsjoch at guesthouse Schönau being located at mid of the way to the summit. Actually there misses an additional altitude difference of some 800m and the subsequent downhill ride to Sölden.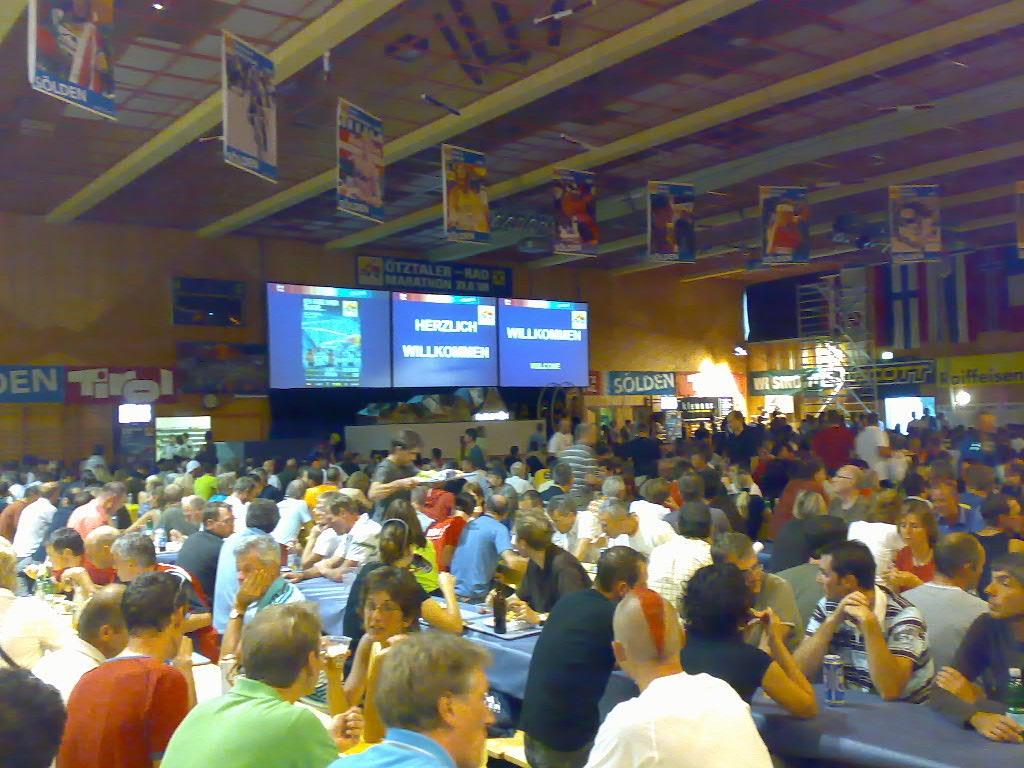 Pasta-Party on the evening before race day
4,000 participants from 29 different countries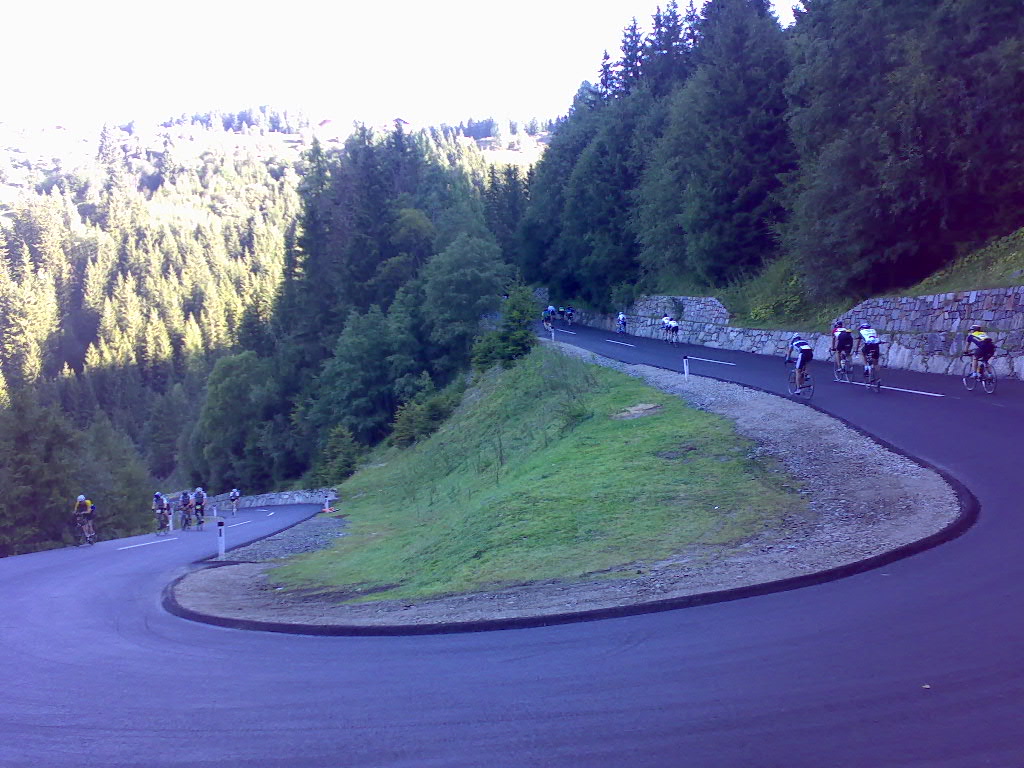 Western ramp of Kühtai provides uphill grades of 18%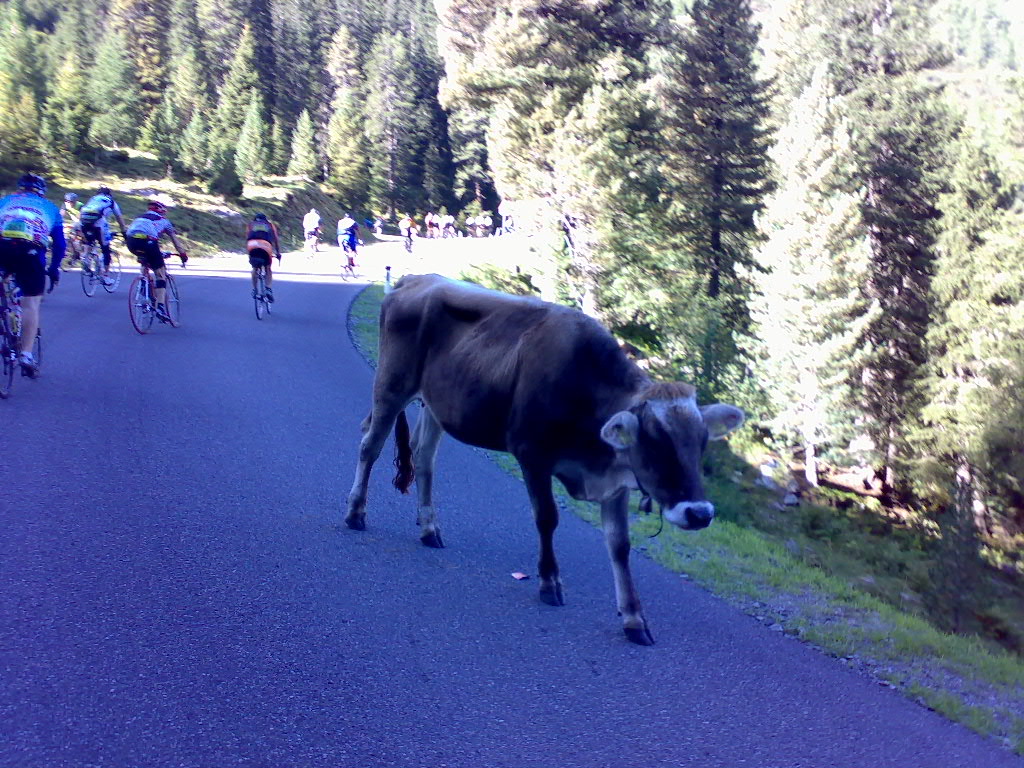 Actually cows on the roadway during the uphill ride! On the descent towards Kematen the critters are being banished by numerous helping hands. Even careful and defensive riders reach there a maximum speed of more than 80km/h. Other riders achieve even 100km/h and more.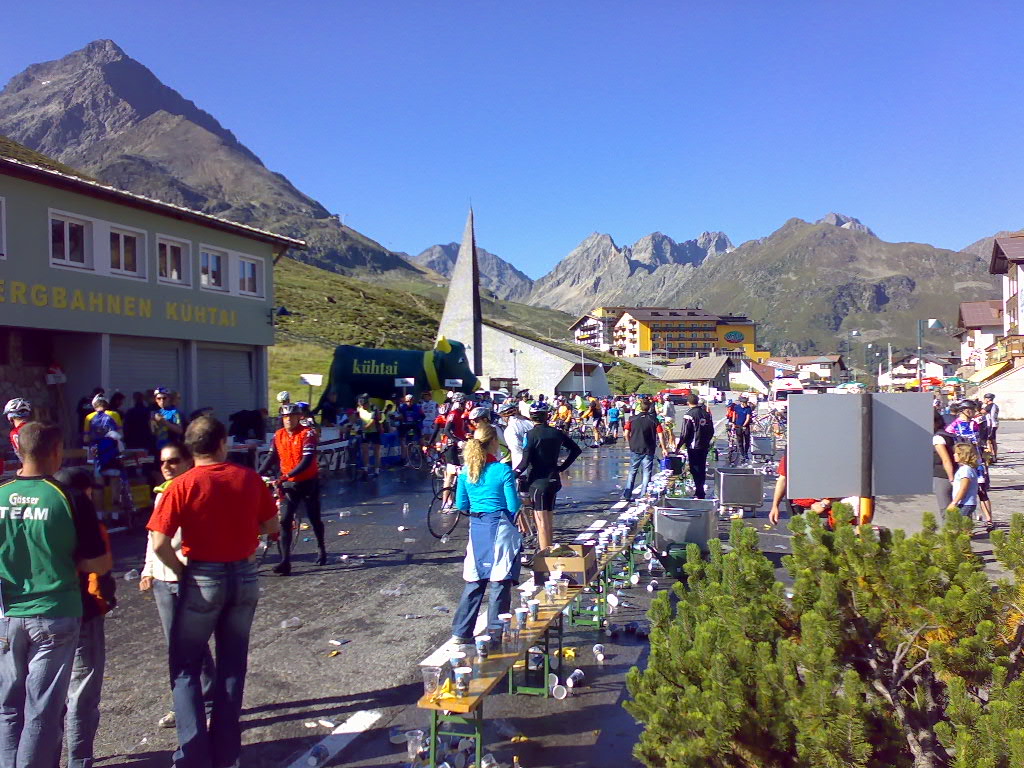 First break at Kühtai at an altitude of 2,020m. Weather conditions are (still) pleasant, compliance with rigorous time limit is (still) feasible, Achilles' tendon is (still) working...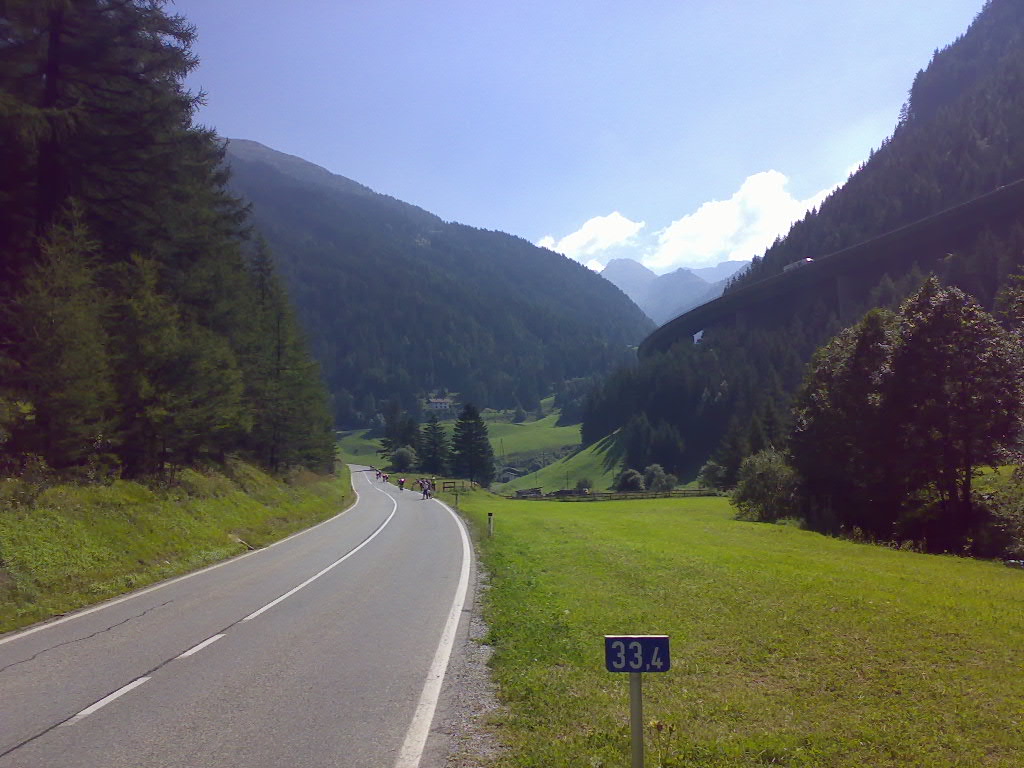 Next to the Autobahn the calm way up to Brennerpass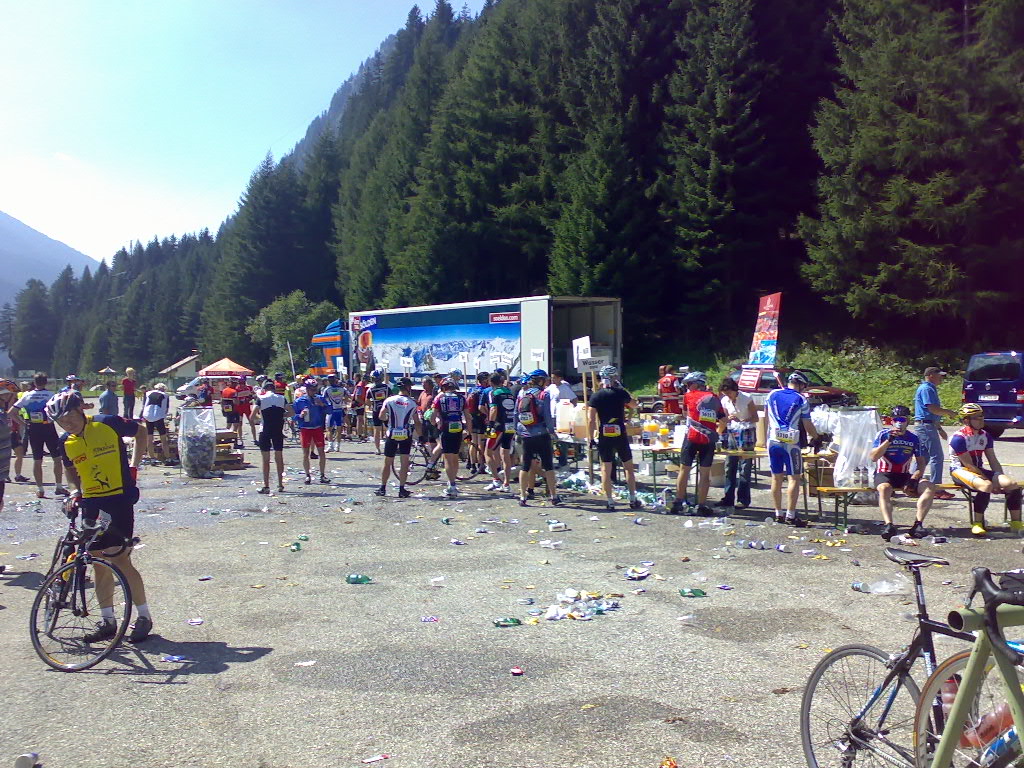 On pass summit the next break providing liquids and food. Achilles' tendon twinges, riding time is hardly in line with the respective limit and the camcorder is irrevocable out of order - only troubles..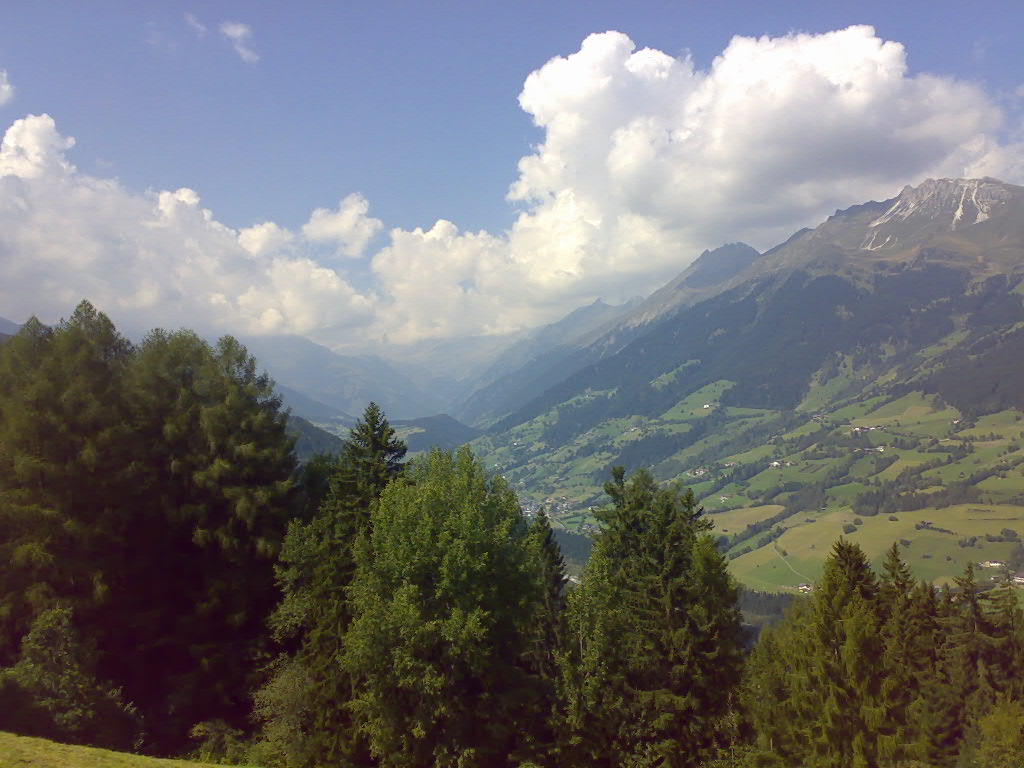 While first riders have already reached the finish in Sölden the weather conditions become worse during the uphill ride to Jaufenpass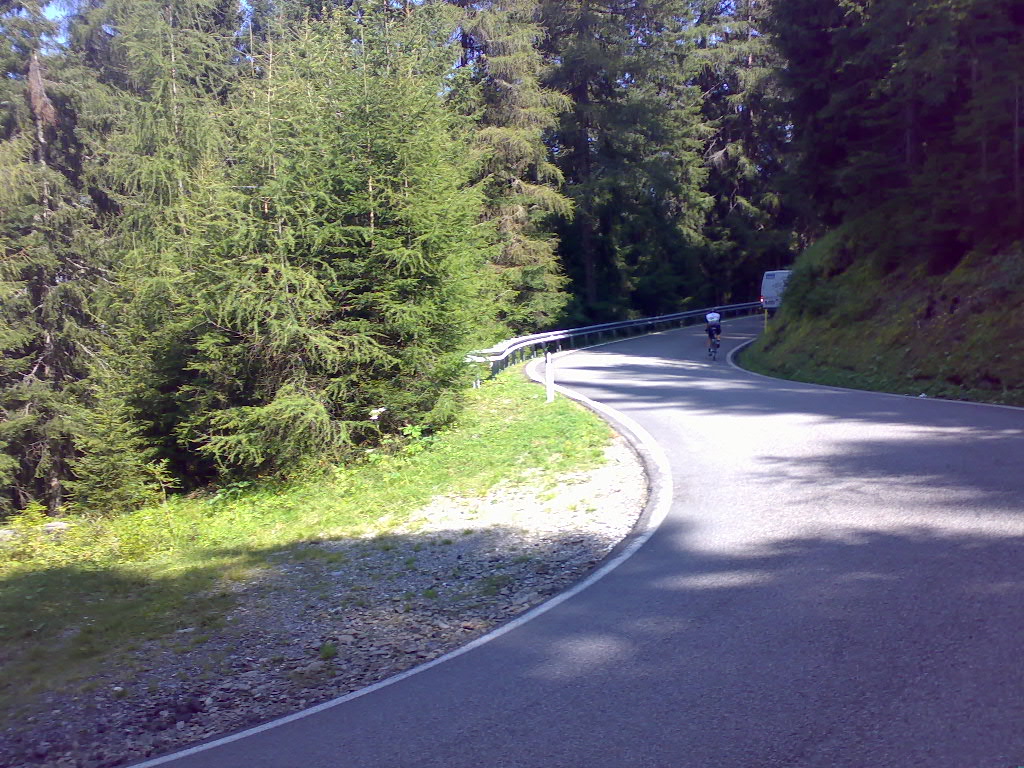 Ramps of Jaufen become the executioner: Pain in the Achilles' tendon and time is running out. Bicycle chain at the very, very left - pure torment...
After an endless uphill ride pass summit of Jaufen is being reached at 3.15pm but time limit can likely no longer be maintained. As all riders have to pass St. Leonhard at 3.30pm latest the descent from Jaufen becomes a very fast matter with no more liquids and food. However, with only a delay of 15 minutes one can stay in the race. Time delay seems to be no problem as official profile shows next stop after only some 19km in Schönau at an altitude of approx. 1,350m. Sugar and caffeine being awaited eagerly at this next stop. Unfortunately, Schönau is actually located at an altitude of 1,750m and you have to pass half of the distance up to Timmelsjoch till there. And why does the cyclometer only show nonsense today (see profile above, it has become 20km too long)? - only troubles...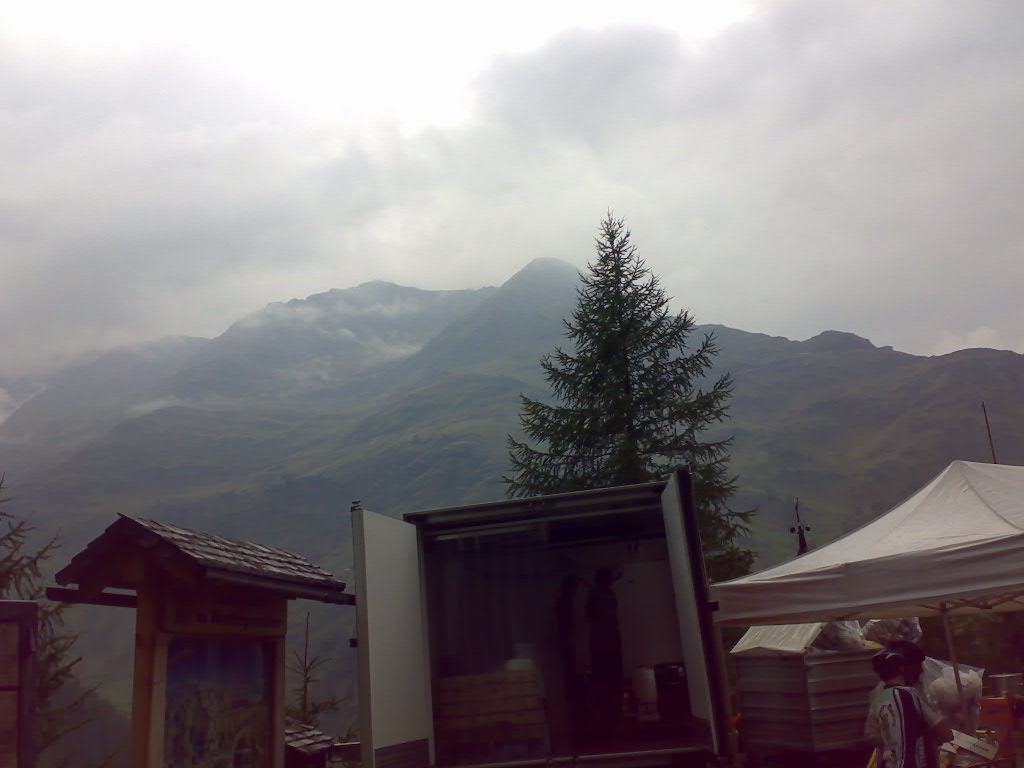 In Schönau legs do not work anymore! Heavy pain in the Achilles, sweeper bus continously in one's back and beginning rain. View up to rainy clouds at Timmelsjoch is not very motivating.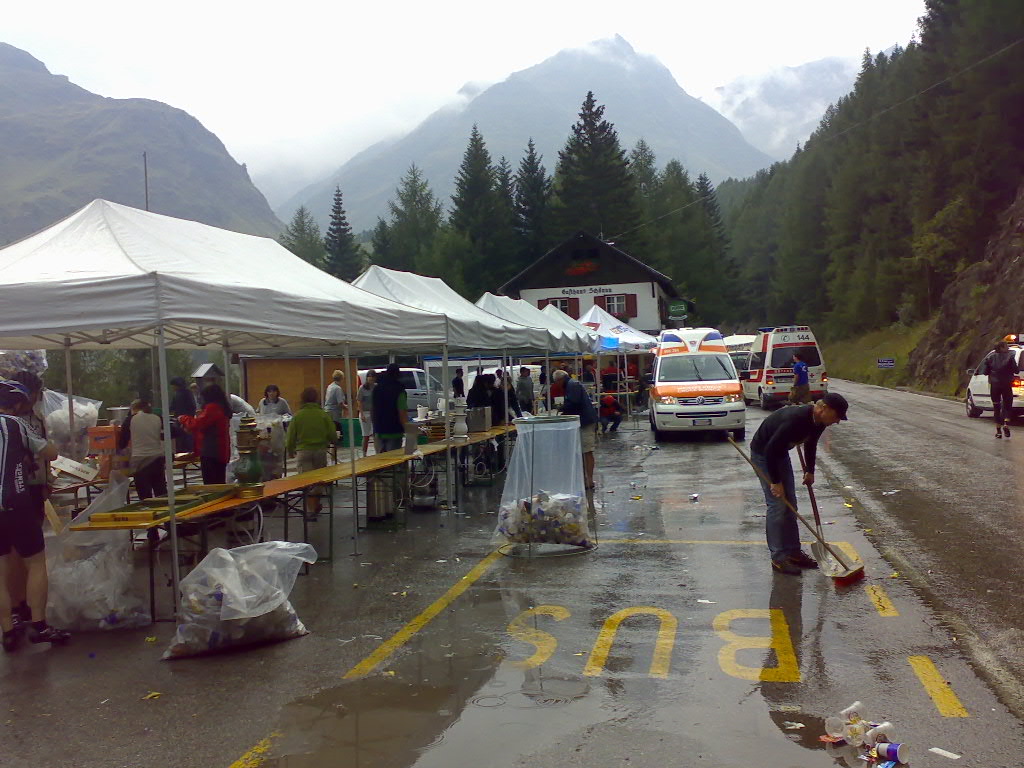 As always at such events real drama at the end of the field. Ambulances and sweeper busses dominate the scenery. At 6pm race management terminates the race for all participants being still in Schönau. Well, damn race management. I would have easily taken both amazing southern ramp uphill ride to Timmelsjoch in heavy rain suffering heavy pain and the subsequent downhill in total darkness ;-)
Upshot: Great event, well organised (except for the wrong altitude reference regarding Schönau). However, it did not work this year - only troubles! And only 2,500km of cycling since season-kickoff is apparently insufficient to keep the time limit. Thus, this story will contribute to the legend of Ötzi... Next year a new try to finish Ötzi-bastard in less than 10 hours!