Nebelhorn / Höfatsblick 1,932m
Trafficability of asphalted runway from the valley station of Oberstdorf Nebelhornbahn up to the cableway station Höfatsblick has always been subject to many discussions among cyclists. In its lower part this roadway is cyclable with a mountain bike but then becomes an extremly steep hiking path. Thus, you have to push your bike beginning at an altitude of some 1,400 meters for significant parts of the further way. Behind the cableway station Höfatsblick/Edmund-Probst-Haus at an elevation of 1,932m the way is even said to lead to a ski-lift above 2,000 meters. Anyhow, this steep hiking way can not be named Germany's highest continuously ridable road. This title should rather be awarded to close-by road up to Alpe Schlappold (1,740m). Furthermore it is possible to challenge a very demanding mountain bike ride to Osterfelderkopf with its peak at more than 2,030 meters.
3. Attempt (August 2016)
Departure: Oberstdorf 813m
Altitude difference: 1,130m
Distance: 9km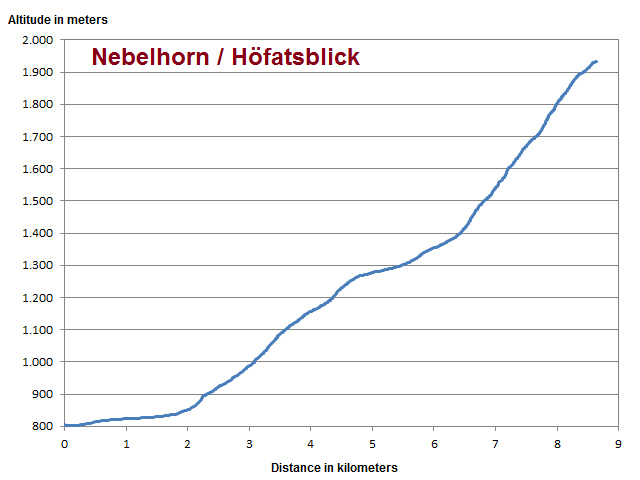 After some two kilometers of riding the ascents to Seealpe (1,280m) starts right at the ski jump stadium. After Seealpe it becomes very steep: Between kilometers 6.5 and 8.5 the cyclist has to overcome 500 meters of altitude gain providing an average gradient of 25%.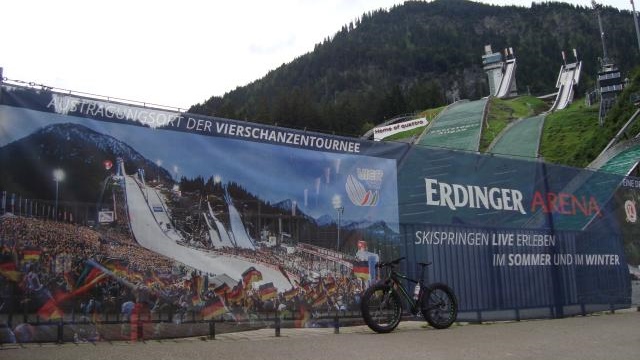 Once again start at the ski jumps after to unsuccessful attempts in previous years (see below).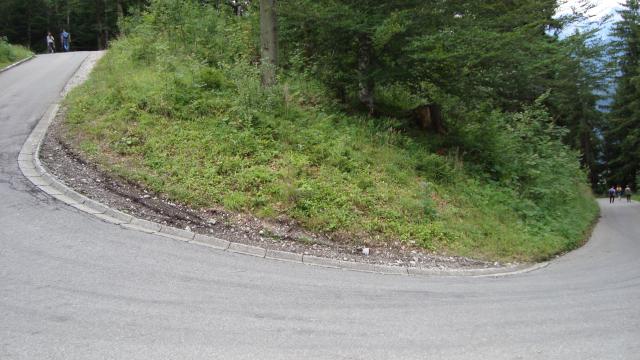 Asphalted road in the lower part of the route - suitable for road bikes as well.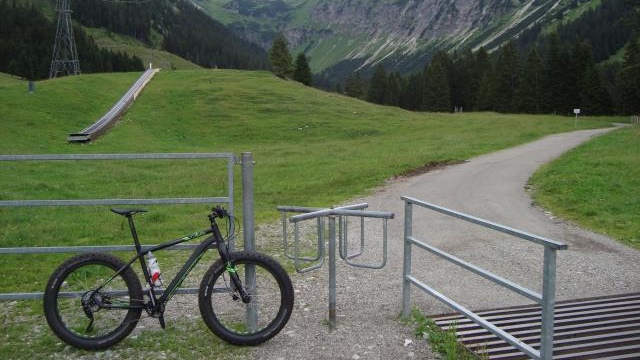 It becomes much more challenging behind this fence at middle station Seealpe (1.280m).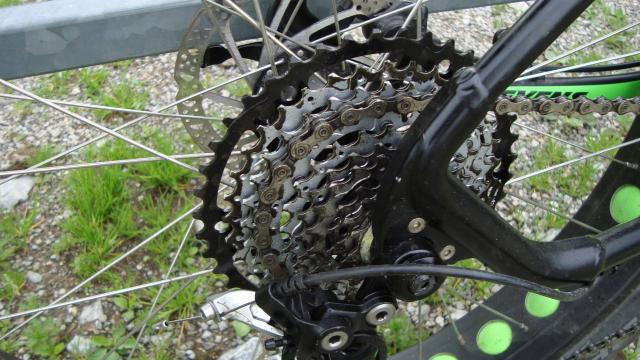 Today's secret weapon: 42 cassette gear, 22 front crankset.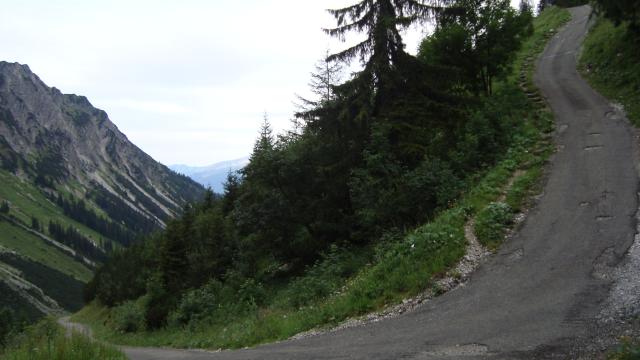 But it does not work... Pushing becomes necessary from here :-(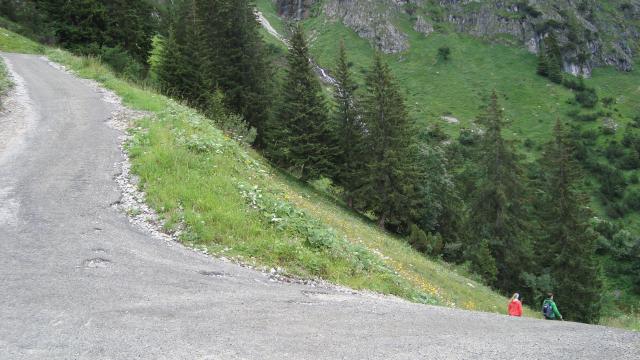 Short flat passages alternate with pushing parts.
Some say this is even cyclable on road bike...
A 4WD gets up here.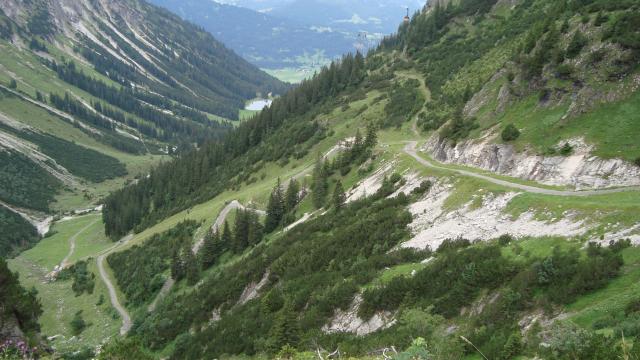 View down to the steep ascent of the last two kilometers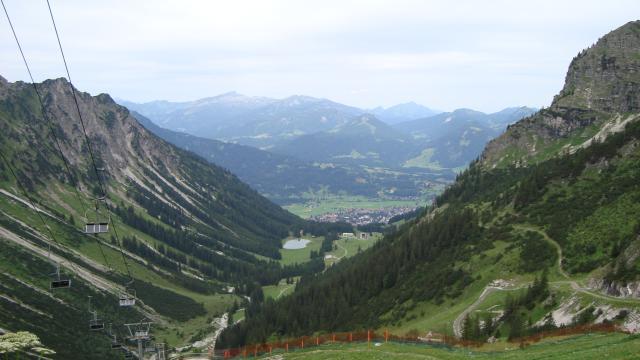 Oberstdorf in the very back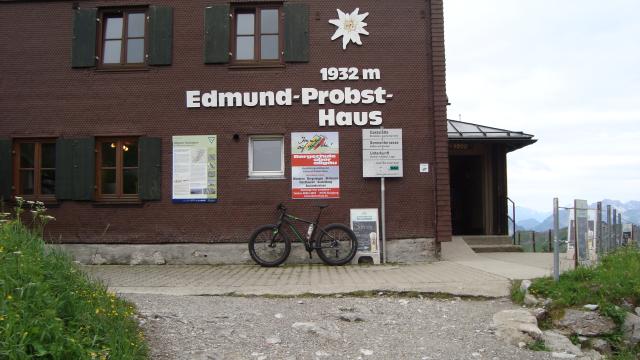 Arrival at Edmund-Probst-Haus of German Alpine Club (DAV) situated directly next to cableway mountain station Höfatsblick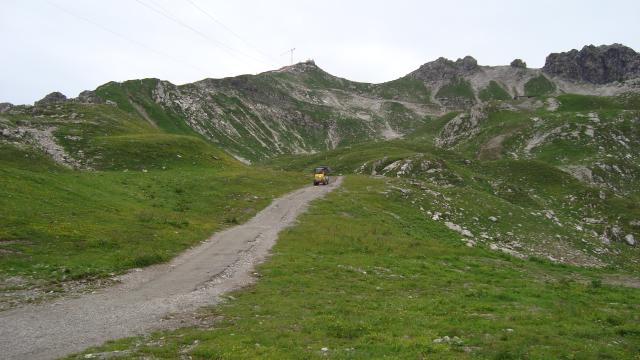 View up to Nebelhorn mountain. You could get even higher on the bike, but there is a construction site today.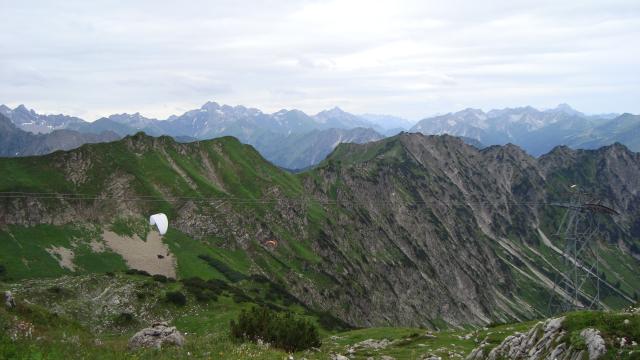 Scenery landscape
-----------------------
2. Attempt (July 2015)
Start: Oberstdorf 813m
Altitude difference until termination: 653m
Distance until termination: 7km
July 2015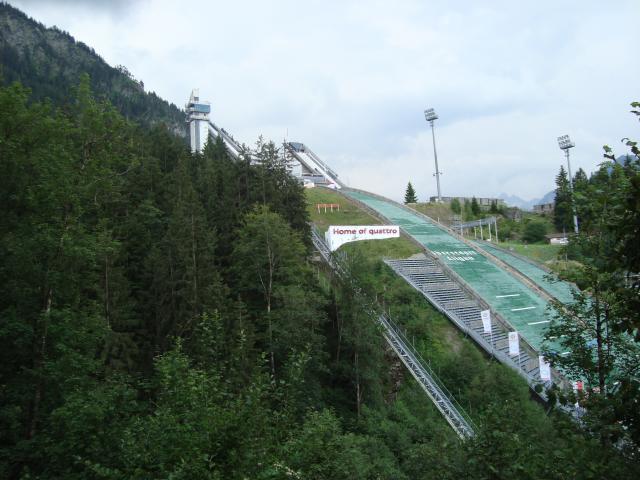 Today's departure at the ski jumping hill in Oberstdorf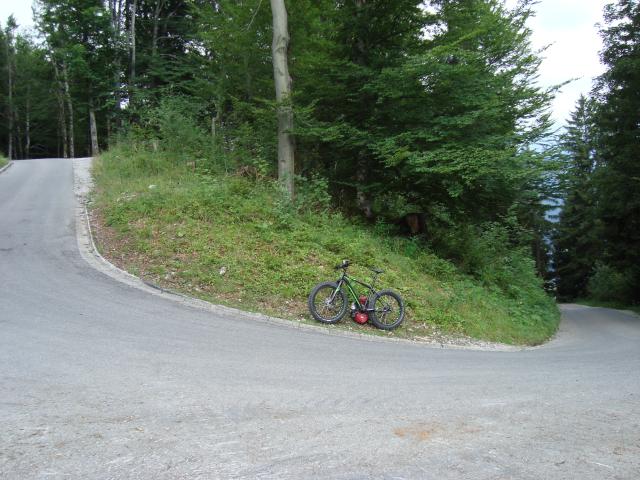 Asphalted road on the first four kilometers with an average grade of 11%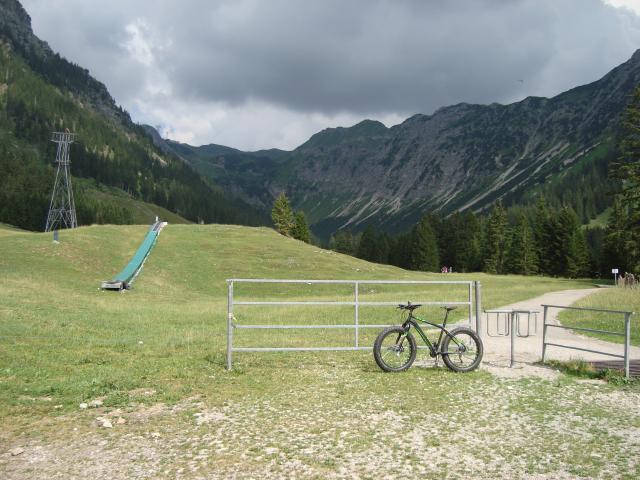 The paved hiking path begins at the middle station of Nebelhorn cable way (Seealpe) at an elevation of 1,280m. However, dark thunderstorm clouds appear in the background...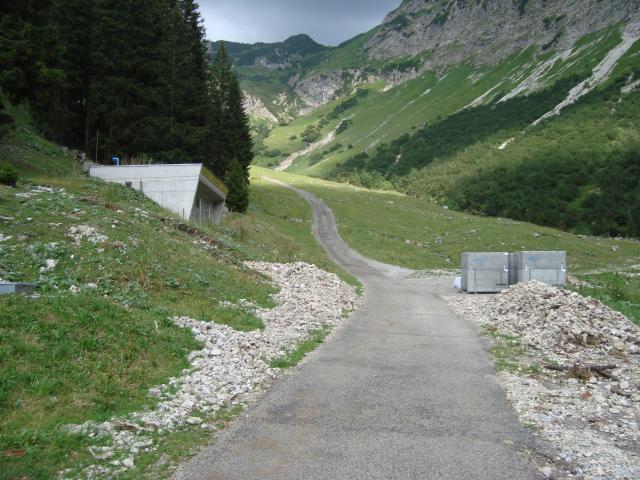 After a moderate beginning behind Seealpe the path becomes a very brutal climb at this pump station.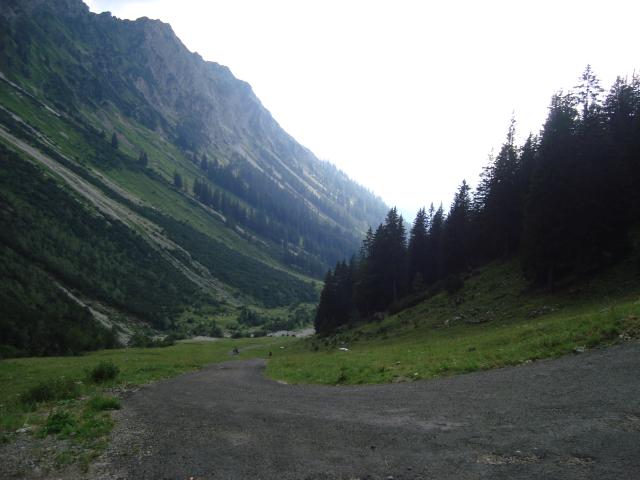 80 meters of altituide gain on a 350m distance - 23% grade! Even with a Fat bike and 22/36 gear hardly cyclable today. And it even becomes worse behind this passage. Anyhow, rumbling thunder on top and beginning rain force me to return back to Oberstdorf...

-----------------------
1. Attempt (July 2013)
Departure: Oberstdorf 813m
Altitude difference until termination: 728m
Total distance until termination: 8km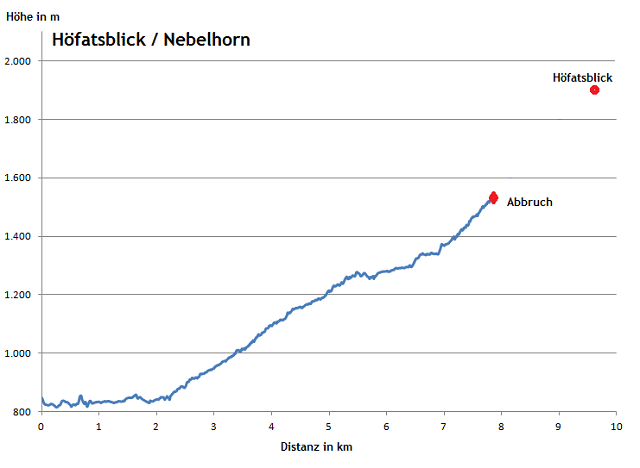 The profile starts in Oberstdorf and leads up Schanzenstraße to Gasthof Seealpe. Behind Seealpe the road narrows and becomes a very steep hiking path. Between kilometers seven and eight the ramp has an average grade of 20% (!).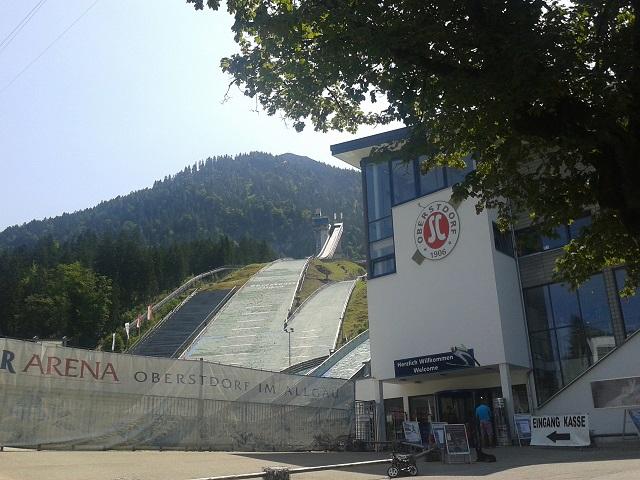 The climb commences at the ski-jump stadium in Oberstdorf.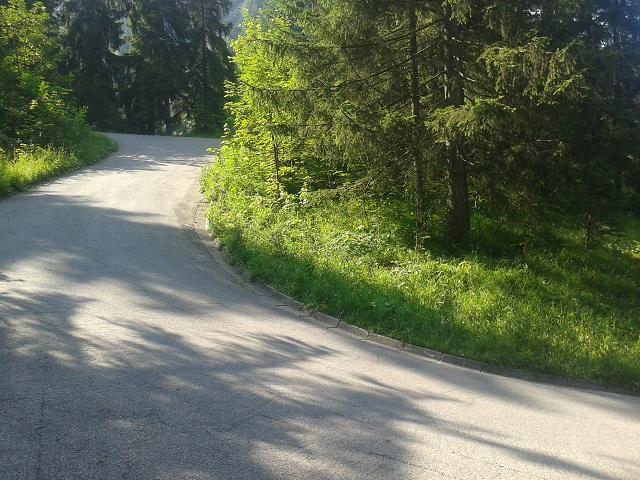 Lower part of the climb provides some shadowy parts and high grades. Average gradient until Seealpe is 13%.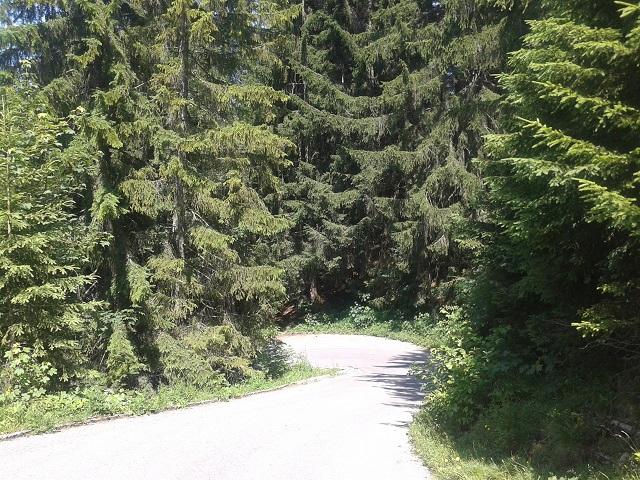 View back to one of these steep asphalted turns.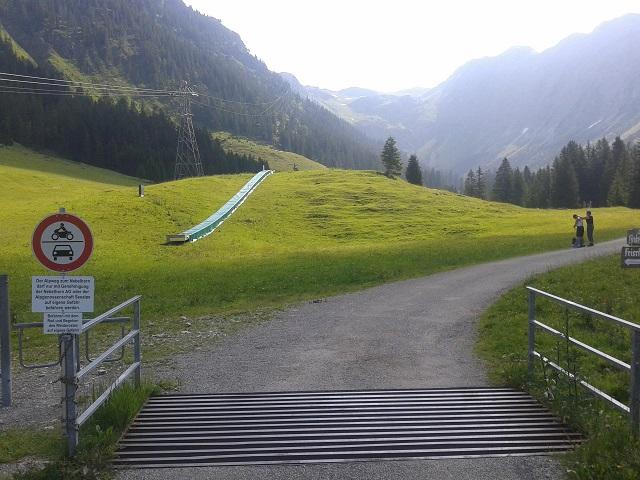 Seealpe is being reached after a few kilometers. The runway now narrows and becomes a very frequented hiking path - no longer asphalted but a flattened path.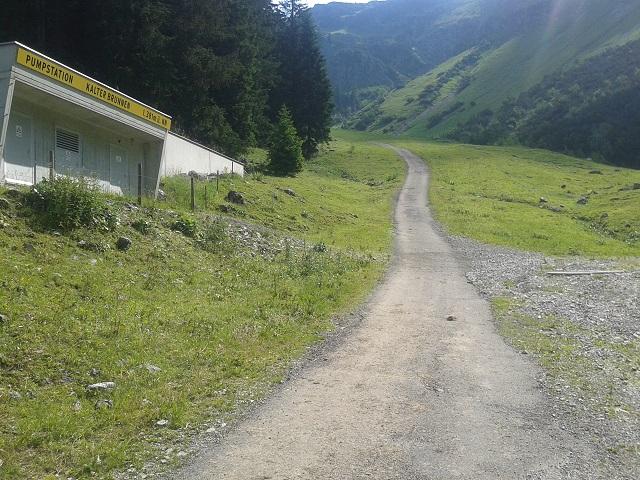 The way becomes steeper and provides gradients of up to 20%.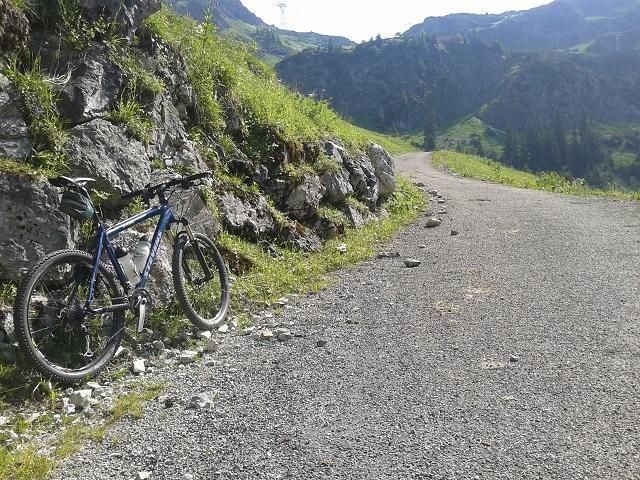 Average grade between Seealpe and mountain station Höfatsblick is more than 16%.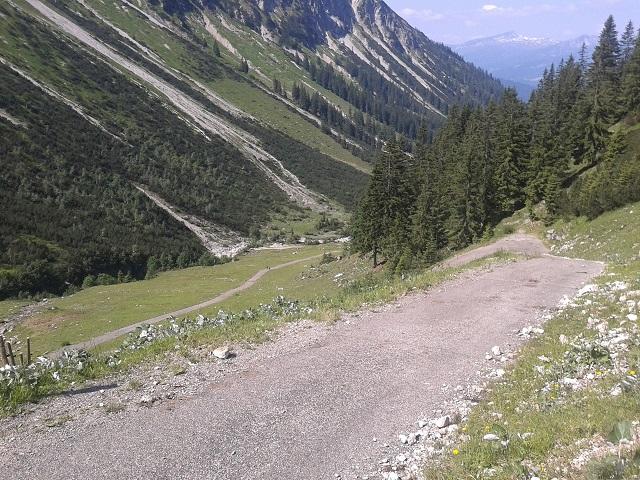 The view back does not indicate the exceptional incline at this spot. Lowest gear is necessary.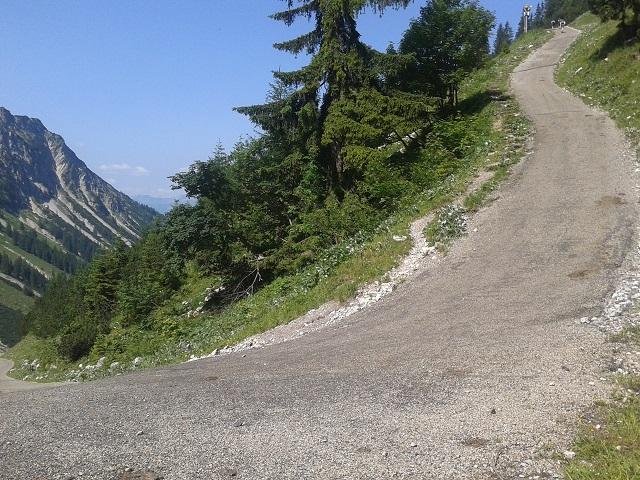 This tremendous sight expects the cyclist behind the following turn at some 1,500m: No idea how to cycle this climb, even pushing the bike is hardly possible. As we do not want to carry or push our bike we terminate the ride at this point, categorised as "not cyclable"!